Workshop Tip: Level Epoxy With A Ski/Snowboard File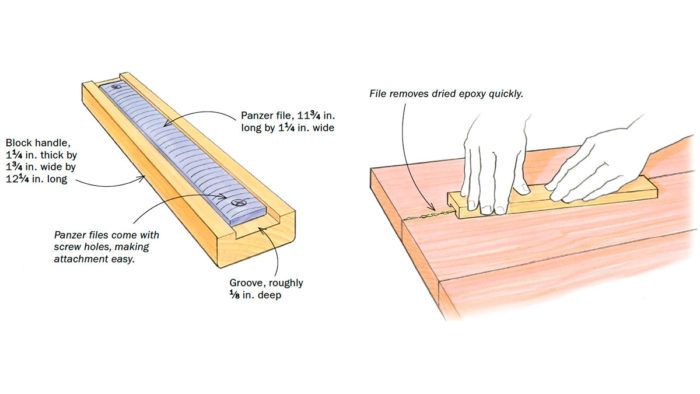 I use a lot of epoxy in my woodworking, for everything from gluing up panels to filling holes and cracks. Being a one-man shop, I appreciate the extended open time this adhesive offers. Also, epoxy does not introduce water into the wood, its gluelines disappear, and unlike most other glues, it can fill gaps with full strength. The main drawback is dealing with the tough, hard squeeze-out. A Plasti-Cut file works OK for knocking down these lumps of epoxy, but it clogs quickly and works slowly. My favorite tool by far is a 12-in. radial file designed for tuning the plastic bases of skis and snowboards. It's called a Panzer file and is sold under a few brand names for as little as $20. It has two identical sides, extending the life of the tool.
The problem with the Panzer file is that it comes without a handle. It's also very sharp, so it will cut your hands and eat up gloves quickly. To make it safe and easy to use, I inset the file in a block of wood cut 1⁄2 in. wider and longer than the file. I run a groove down the middle just deep enough to accept the file and leave the teeth protruding. Then I round over the top edges to make them comfortable. Be sure to buy the type of Panzer file with screw holes at the ends, making it simple to attach to the block. This tool will destroy a mound of dried epoxy in seconds with little to no effort, and no damage to the surrounding wood. It's amazing.
—Matt Schreiber, Victor, Idaho
Drawings: Dan Thornton
From Fine Woodworking #272