Q&A: Should I replace a plywood panel with solid wood?
Mike, Bob and Ben debate the pros and cons of plywood vs frame-and-panel construction.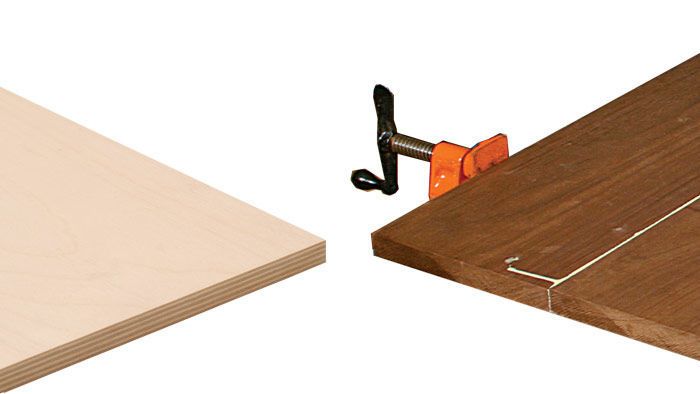 Question from Jim: I am planning to build a sewing table for my wife. The plans call for using cherry plywood for several major panels of the case. While the stability of a plywood panel is certainly an advantage, it is expensive and I like the idea of using glued up panels made from 4/4 stock. What would you do and why?
---
Mike Pekovich: If you're working from plans and the plans spec plywood, there's a really good chance that the design takes advantage of the fact that plywood doesn't move. So I would look at the plans really closely and ask yourself, "Why is this panel plywood? What is it doing for me?" You could really get yourself into trouble if you ignore the need for a stable panel somewhere. If there's cross grain construction, or something else, the whole thing could blow up once the piece is assembled.
If you do want to replace a plywood panel that's needed for stability, don't use a solid wood panel. Use a frame-and-panel, because they're also really stable. In a frame-and-panel, the perimeter is very stable while the majority of the wood (the panel) can move within the frame without affecting the parts around it.
Bob Van Dyke: If you're using plywood or MDF glued into a frame-and-panel, that's going to be incredibly strong and light, much lighter than using solid panels.
Another thing to think about is: do you have the capabilities to cut big sheets of plywood accurately? Especially if you're just using a plywood panel with no frame, it has to be dead square at what might be some pretty large dimensions. On the other hand, if you're using a frame-and-panel, the panel may not need to be perfectly square, because the edges are hidden inside the frame.
Ben Strano: Here's what I think. If you're seriously thinking about replacing a plywood panel with a frame-and-panel, you're bringing in a new set of challenges. One, I don't think you're saving any time here, and two, I don't know that you're going to save that much money, either.
Mike: A piece of cherry plywood might be expensive, but if you think about what it would take for you to make a panel like that yourself… you're getting 32 board feet of perfectly flat, perfectly clean cherry. That would cost you a lot of money if you bought solid stock and milled everything down yourself.
Ben: Another thing is, cutting a rectangle of plywood is much simpler than cutting all the joinery for a frame-and-panel, which means the project is going to come together a lot faster. My advice: just make the sewing table for your wife. She doesn't care if it's plywood. She doesn't care if it's 4/4 stock. Get it done.
Mike: Yeah, there's a lot to be said for a project that's finished.
Ben: A year from now, you're not going to think about the hundred and twenty dollars for the piece of cherry plywood. You (and your wife) are just going to be happy that it's done.
And if you're thinking about replacing the plywood just because it's plywood… I personally have no problem with plywood, and I know I'm in the minority. What is the issue with plywood?
User's Guide to Plywood:
For furniture makers, sheet goods
offer strength, stability, and good looks
By Roland Johnson #177–May/June 2005 Issue
Mike: I mean, anytime you veneer a piece of wood, technically that's plywood. So if you're into veneer work or anything like that, you're basically working with plywood. There's nothing wrong with plywood or MDF. It's a material.
Bob: It all has a place. And you know, whether you want to use plywood or not, it shouldn't be a moral judgment. You should make the decision based on what you're doing and what you're building.
Mike: All my kitchen drawers have birch ply drawer sides. Or if you're making a chest of drawers, for instance, a plywood back panel is by far the strongest and most rigid way to go. It's going to keep that thing from racking, and keep your drawers nice and straight. And if you're using a plywood panel glued into a frame-and-panel, the whole frame becomes really really rock solid.
And if the edge is exposed, they do make some really tight multi-ply plywood, which is really clean and looks really nice.
Ben: Like Baltic birch. Oh yeah, that's some beautiful stuff to work with.
Mike: Yeah, that edge grain with those plies can be a really nice design element. So it depends what you're doing.
Bob: A lot of people think of working with veneer as a way of cheaping out. But there are some things that you can do with veneer that you could not do in solid stock. Set the money aside, it just physically wouldn't work.
Mike: Even James Krenov, in one of his books, tells you how to make shop-made plywood. So there you go. It's a way to stretch really nice wood. You saw it thin, you face a lot of boards with it, and you're able to get a lot more mileage out of some really nice or really scarce woods that you don't have a lot of. So don't poo-poo plywood just because it's plywood. It's a legitimate material.
This conversation was excerpted from Shop Talk Live episode 191.