Our favorite articles and videos of 2018–Part 1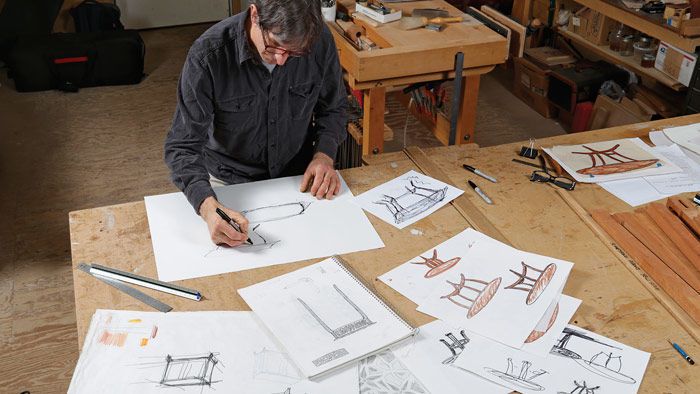 How do you cap off a great year of woodworking articles and videos? Well, we decided to collect our favorites in two posts (part two coming soon).  Each editor was asked to submit two selections. Of course, Anissa, Barry, and Jon Binzen weren't able to whittle it down that far and submitted between 5 and 10.
As Anissa said:
"Oh man, Ben, this is hard. I'm looking through the folder of articles I worked on this year ( I know it was open to anything, but this just seemed less daunting), and I want to choose all of them! What we get to do for work is so cool!"
Well said Anissa!
What were your favorite articles and videos in Fine Woodworking this year? Let us know in the comments section!
---

Tom McKenna
Editorial Director
"Machines scare me sometimes. Not using them,
but fixing and tuning them up. I'm not a mechanic
or machinist, so I fear that I'll mess up something.
But this video workshop takes all the fear away.
In it North Bennet Street School instructors Matt Wajda
and Ellen Kaspern give a soup-to-nuts description of how
to tune up essential shop machinery."
---
Mike Pekovich
Creative Director
"Tim outlines a solid step-by-step design routine that
obviously works based on how beautiful his furniture is.
The biggest insight the article offers is that the design
process doesn't stop at the drawing board. Tim
strategically leaves himself wiggle room when building
that allows him to refine the design as he goes."
---
Jon Binzen
Deputy Editor
"I'd seen hollows and rounds in many shops don't have
any myself and didn't really grasp how they worked. It
seemed to me a skill lost in the misty past. But Bickford's
article made the way they work clear and remarkably
approachable and made their benefits seem compelling.
Now that I have the theory down, I may have to rise from
my armchair and give them a try.
---
John Tetreault
Deputy Art Director
"This is the kind of video that makes you want to stop
what you're doing and go make something. Watching
this brings out that joyful feeling you get when creating
anything with your hands. This just happens to be working
green wood, chipping little chips and making precise, tiny
shavings with a few strange tools and lots of skill."
---
Anissa Kapsales
Associate Editor
"It's a beautiful, timeless design, and he is always
so efficient in his methods. And I had a ton of fun
shooting it, remember the Becksvoort playing
the spindles video?"
---
Barry Dima
Associate Editor
"Pine's the best wood. Prove me wrong.
Spoiler alert: You can't."
---
Ben Strano
Digital Brand
Manager

"I met Lynn on a tour of Lie-Nielsen's factory
during their open house, and I immediately knew that I
wanted to tell her story. Easiest video to make ever. Point a
camera at Lynn and the rest just pours out of her. I hope
everyone finds something to be as passionate about as Lynn
is about her job!"