Thin-Strip Ripping Jig has a Bonus Feature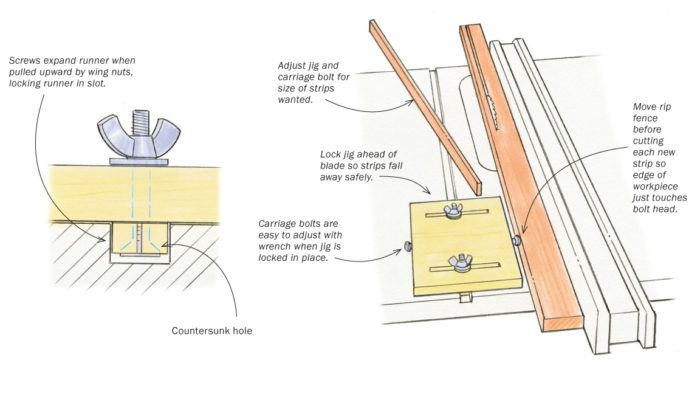 I'm not the first to place a stop on the other side of the blade, opposite the fence, when ripping thin strips, so they can fall away freely. But my thin-strip jig has some unique advantages, as well as a bonus feature that will work on other tablesaw jigs.
Made of 3⁄4-in. plywood, the jig is a reversible block with bolts on each side that act as adjustable stops, and big slots that allow a larger range of side-to-side adjustment. Because I work with both metric and standard measurements, I use a 3⁄8–16 carriage bolt on one side (which moves 1⁄32 in. per turn), and a 6mm or 7mm carriage bolt on the other (moves 1mm per turn). I use a tap to cut threads for the bolts, but simple pilot holes would also work.

To attach the jig to the table, I cut a hardwood strip to fit the miter slot, and then used two thin slots and two countersunk holes to turn it into an expanding runner that locks the jig anywhere along the miter slot. Flat-head machine screws go through the countersunk holes and up through the jig, where wing nuts pull them upward and expand the runner. The locking pressure is excellent. The bonus: That same expanding runner works beautifully on router and drill-press tables, for featherboards and other shopmade jigs.
—Charles Lopez, Cherryville, B.C., Canada
From issue #268
More on FineWoodworking.com: