Tool Test: Table Saw Combination Blades
We test nine blades from Amana, CMT, Delta, Forrest, Freud, Infinity, Ridge, SawStop, and Tenryu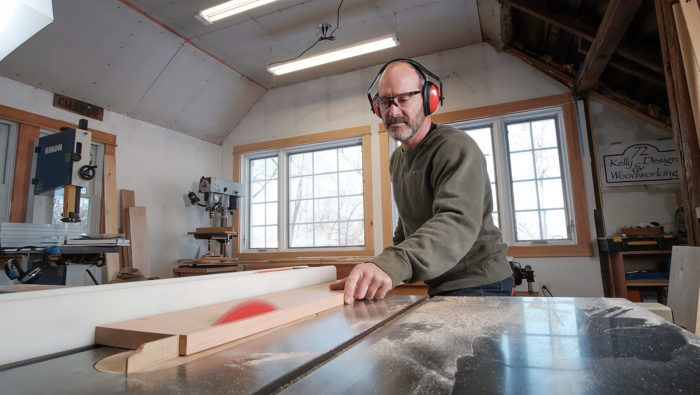 Synopsis: We tested nine 40-tooth combination blades with 1⁄8-in. (standard) kerfs, using them to make crosscuts and rips in pine, cherry, and plywood to determine how smoothly and cleanly they cut. We also ripped 8/4 hard maple to discover how they managed challenging ripcuts. In the end, there is a tradeoff to be made between quality of ripcuts and speed. Because of their geometry, teeth ground to cut cleanly and smoothly do not rip quickly. So, when picking a combination blade, you must decide what you prefer: super-clean cuts or faster ripping. From issue #267—Mar/Apr 2018
---
In a perfect shop, you'd switch between rip and crosscut tablesaw blades so that you were always using one optimized for the cut being made. Of course, there are no perfect shops, and many woodworkers prefer to keep one blade in the saw for both types of cuts. This is why combination blades are so popular, and because of their popularity there are nearly a gazillion available at home centers, hardware and woodworking stores, and online. It's also why the editors at Fine Woodworking asked me to test them and determine which ones make the smoothest cuts.
To make sense of the overstuffed field—and so that I wouldn't spend all year in the shop testing sawblades—we decided to narrow the test to 40-tooth combination blades with 1⁄8-in. (standard) kerfs, because 40 teeth strike a balance between ripping and crosscutting.
Nine blades met these criteria. I used them to make crosscuts and rips in pine, cherry, and plywood to determine how smoothly and cleanly they cut. I also ripped 8/4 hard maple to discover how they managed challenging ripcuts.
In the end, the Freud Premier Fusion blade produced the best cut quality for both rips and crosscuts, but it did not rip thick, hard maple quickly. If you're looking for a faster ripcut and don't mind minor imperfections in the cut, then go with the Forrest Woodworker II or Ridge Carbide TS2000.
What matters more: smoothness or speed? Because of their geometry, teeth ground to cut cleanly and smoothly do not rip quickly. So, when picking a combination blade, you must decide what you prefer: super-clean cuts or faster ripping. The Freud Premier Fusion left excellent surfaces. It's the Best Overall in that regard. At just $88, it's also the Best Value. The Forrest Woodworker II and Ridge Carbide TS2000 have teeth that rip more quickly, and they are Best Overall blades for ripcuts. The tradeoff for that speed, however, is a cut that's not quite as smooth or clean.
For the full article, download the PDF below.
More on FineWoodworking.com:
View PDF