Table Saw Splitters and Blade Covers
A survey of retrofit safety devices that are convenient to use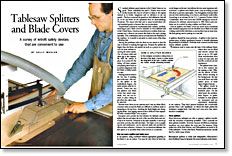 Synopsis: Standard tablesaw guard systems fall short for Kelly Mehler, and he reviews three add-on splitters and six blade covers to see how convenient, affordable, durable, and useful they are. Mehler, who wrote a book on tablesaws, gives each splitter and blade cover a workout and shares his perspectives on how the guards rate.
Standard tablesaw guard systems in the United States are no good. There, somebody has said it. Nearly every woodworker knows this, but we all have to listen to the experts remind us in books, magazines and on television to use our guards. They have removed the guards on their tablesaws, they tell us, so we can better see the operations they are demonstrating. Nonsense. The reason why they and so many woodworkers discard standard guards is because they are inconvenient.
Underwriters Laboratory recommends that a splitter, antikickback fingers and a blade cover be included on every tablesaw sold in the United States. American manufacturers combine these components into a three-in-one system that bolts to the saw's carriage assembly. This combination system severely limits the flexibility of the machine. So it usually is cast aside in a dark corner of the shop, collecting dust.
Among the problems with the three-in-one system is that the user is limited to making through-cuts. Because the splitter sits higher than the blade, any partial cut such as a groove or a joint can't be done without removing the entire system. Use of crosscut sleds and other jigs is also impossible with the system in place. So it comes off. But taking off these systems and putting them back on in perfect alignment with the blade is neither quick nor easy.
Making matters worse is the fact that if anything gets in the way—the cover, the splitter or the antikickback fingers—the entire system must be removed. Today you can buy splitters and blade covers that attach separately, and one can remain in place doing its job when the other must be removed.
Because most three-in-one systems won't stay up when lifted, common tasks around the blade are difficult to perform (such as measuring to the rip fence, checking the blade height and changing the blade). And ripping narrow work is difficult if not impossible with a standard blade cover in place.
European saws provide the best solution for tablesaw safety: a splitter that sits just below the level of the top of the blade and never has to be removed. Mounted to the arbor assembly, it moves up and down and also tilts with the blade. The blade cover is usually narrow and unobtrusive, can be removed easily and provides for efficient dust collection. However, for an American tablesaw, the best option is to purchase these safety devices as accessories.
From Fine Woodworking #152
For the full article, download the PDF below:
View PDF