Bandsaw jig cuts perfect dovetails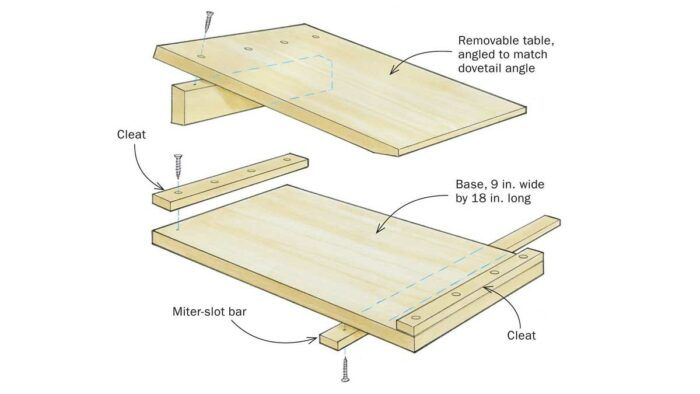 I recently invented a jig that makes great through-dovetails on the bandsaw—both pins and tails. It cuts the cheeks and also lets you remove some of the waste, leaving just a bit of chisel work. You need only a moderate skill level to use the jig but the results are super: pins as narrow as you like and a level of precision that is difficult for some of us to produce with hand tools alone.
The base of the jig is a sliding table with a wood bar that fits in the miter slot on your bandsaw table. The tails are cut on that table with a small tapered fence holding the workpiece at the correct angle. For the pins, a sloped table fits between two cleats on the flat one, and a T-square holds the workpiece in position. Whether you want to cut pins or tails first, you'll need to lay those out clearly, and transfer the layout precisely from pins to tails or vice-versa. With just a little practice, you can cut the second half of the joint for a very precise fit with the first half, with no additional fitting needed.
—Dan Sweeny, Westlake, Ohio