Self-clamping stop block for crosscutting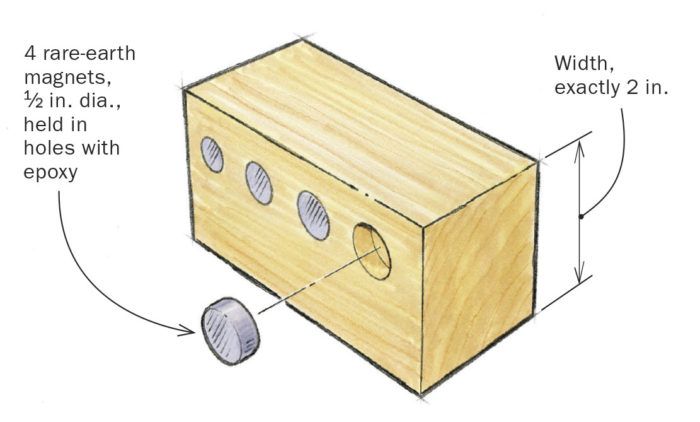 If you try to use the rip fence as a stop block when crosscutting on the tablesaw, the trapped, unsupported cutoff can turn into a missile. The safe method is to clamp a block to the rip fence well in front of the blade, so the freed piece is not trapped. However, this can be awkward, particularly on my shallow Biesemeyer-style fence where the clamp can interfere with the work. To avoid clamping of any kind, I created a stop block with four rare-earth magnets embedded in the base. The block is placed against the fence and sticks securely to the cast-iron table. When it's not in use, it I just stick it to the side of the saw cabinet.
I use this quick, handy stop on my bandsaw too, where I don't feel good about applying clamping pressure to the extruded aluminum rip fence. By making the block a known width (and perfectly square), I can still use the ruler on my rip fence without measuring, remembering to do the simple math. Note also that the magnets are located close to one edge of the block; this allows me to flip the block if the magnets end up over the miter slot.
—Robert Gunn, Mississauga, Ont., Canada