Arts & Crafts Bed
White-oak bed is loaded with Stickley style and topped off with traditional inlay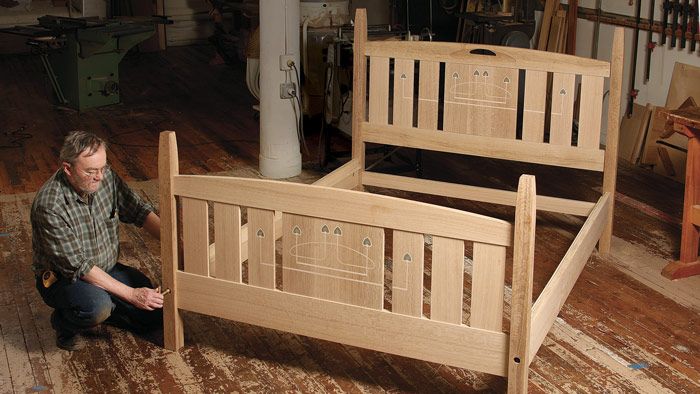 Synopsis: Designed after a four-post bed by Gustav Stickley, this queen-size version features a Glasgow-style inlay and can be adapted to suit any mattress height. The construction is mortise-and-tenon, the posts are tapered, and the head- and foot-boards are curved. Kevin Rodel made this Arts and Crafts classic in the traditional white oak.
This bed design is a close copy of an original Gustav Stickley bed. My only changes were to stretch it out to a queen size and add a Glasgowstyle inlay embellishment to the head- and footboards. Now, you all know that mattress sizes are standardized for length and width: designated as full through king sizes. However, the thickness of mattresses and box springs varies considerably, too, meaning the distance from the mattress top to the floor can be different. I always recommend a floor-to-mattress height of 26 in. to 28 in., as that works well with most bedside furnishings, which are usually 27 in. to 30 in. high. You may wish to change the post mortise locations given in the plans to accommodate the mattress height that you prefer. But I believe these plans, as drawn, will work with about 80% of available mattress and box spring thicknesses. Make the posts first Mill the posts to 21⁄2 in. square and cut them to length. If you must glue them up from 6/4 or 8/4 stock, I suggest orienting the glue seam from side to side so it will be less noticeable. Lay all four posts on a flat surface, bottoms flush, and lay out the side rail mortises. Now take the two footboard posts and lay out the footboard rail mortises, four mortises in all. Do the same for the headboard posts, laying out six mortises, as there are three headboard rails. All of the mortises are centered on the posts and 1⁄2 in. wide. Except for the 9⁄16-in.-deep side rail mortises, all other mortises are 11⁄4 in. deep. Once the mortises have been cut, taper the posts. For consistent tapers from post to post, I used a 1⁄4-in. Masonite template of the post's top with the desired curve shaped on it. Place it over each post, draw on the curve, then bandsaw and sand to the pencil line.
For the full article, download the PDF below:
Want more? Check out the video workshop of Kevin building this beautiful bed here.
More on FineWoodworking.com:
View PDF