Make Your Own Bandings
Once you master the basics, the only limit is your imagination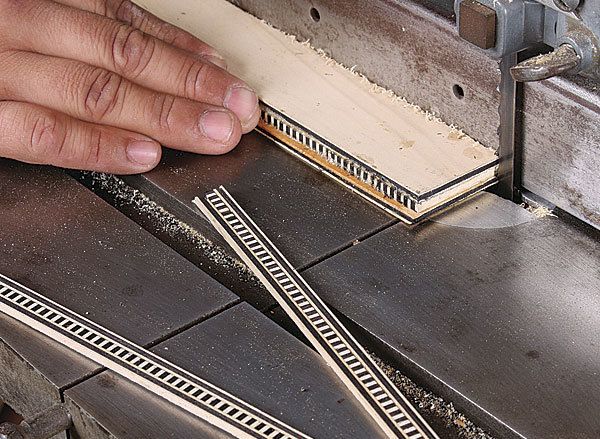 Synopsis: Stringing and banding is a hallmark of Federal-style furniture, and it's pretty straightforward to make your own. Freddy Roman demonstrates how he does it using shopmade jigs and basic woodworking tools. Once you've mastered his technique for a simple banding of alternating black-and-white squares, you can apply the same techniques to creating a whole palette of designs.
Appearing light on its feet, almost as if standing on its tiptoes, Federal-style furniture relies on symmetry, tapered and turned legs, simplified moldings and carvings, and above all stringing and banding, or to give the latter its correct name, tarsia a toppo. This technique, invented by Italian craftsmen during the Renaissance era, can be roughly translated as block marquetry. At its simplest it is nothing more than stacking, cutting, and gluing woods of contrasting colors, thicknesses, and widths to create geometric patterns.
Here I'll demonstrate how to make such bandings…
Start your 14-day FREE trial to continue reading this story.