Make an elliptical tabletop
Make an elliptical tabletop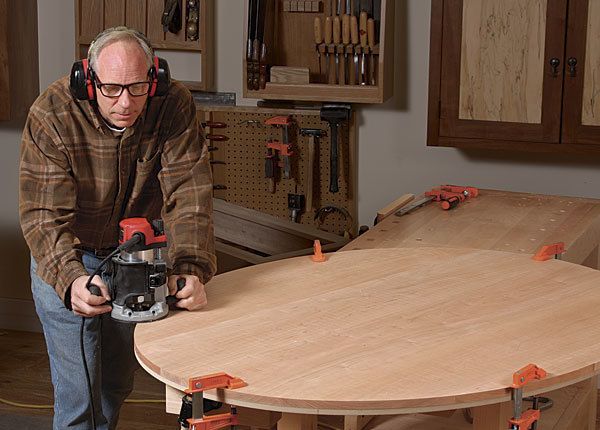 Synopsis: In this companion piece to "A Table for 2, 4, or 6," Chris Gochnour demonstrates a jig that takes the mystery out of routing an elliptical tabletop. Unlike a circle-routing jig, which has a single, fixed component, this jig has two anchor points. Guides attached at these points travel in a base with two grooves, forming a perfect elliptical cutting path.
---
Between the practicality of a rectangular top and the elegance of a circular one lies the elliptical tabletop. Stretching out a circle into an ellipse increases the usable space around a table while maintaining the beauty of a fair curve. It's why I used one on the Shaker-inspired gate-leg table project (pp. 30–37).
An elliptical top can be more difficult to make than a rectangular or circular one, but this jig takes all the pain out of it. It's similar to a circle-routing jig, but instead of swinging around a single point to create a circle, it uses two points to create an ellipse. Two guides, attached to a trammel arm, ride in grooves cut into the jig's base. As you walk the router around the base, the guides slide in the grooves, and move the trammel arm in an elliptical path. Once the jig is made, there's no layout or complicated setup to make an elliptical tabletop. Because I don't want to screw the jig to my top, I use the jig to rout a template, and then I use the template to make the top.
Router jig is easy to make
The most important step in making the jig is locating the guides accurately on the trammel arm, because this determines the ellipse's length and width. Make the trammel arm first. It holds the router base and two guides. After cutting all the parts to their final dimensions, drill the router base to hold your router. Then drill a hole for the bit. glue a 1⁄4-in.-thick spacer to the bottom of the trammel arm, and then glue the router base to the spacer. Chuck a 3⁄8-in. straight or spiral bit into the router, then attach the router to the trammel arm. Now attach the two guides. Measure from the cutting edge of the bit down the jig's centerline. The distance from the bit to the center of the first guide is half the width of the ellipse.
For the full article, download the PDF below:
View PDF