Super Glue to the Rescue
From repairs to assembly to finishing, how to get the most from this versatile shop helper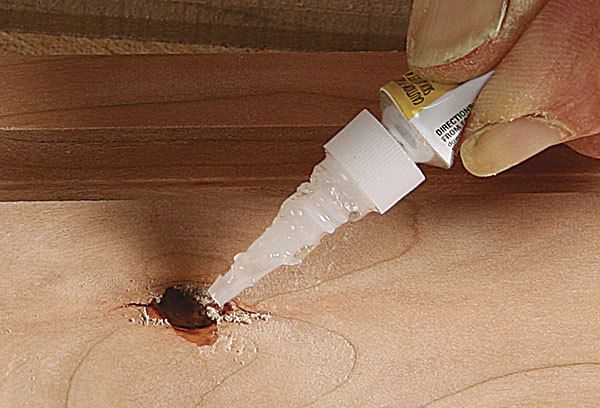 Synopsis: Cyanoacrylate (CA) glue, popularly known as Super glue, is known for being a fast-drying adhesive that doesn't add moisture to wood. What are the best uses for CA glue in the shop? We take a look at how woodworkers are using it. We also test a relatively new CA glue designed specifically for furniture making. Included are tips on handling the glue, using it for repairs, as a quick clamp substitute, as a wood turning finish, and finally as a furniture glue.
We've all been there. you chip a plate in the kitchen or break off a vital section of wood you are working on. If you want an invisible repair, the area is hard to clamp, or you don't want to wait for the glue to set, the answer is Super glue.
Speed is the main advantage of Super glue, whose technical name is cyanoacrylate (CA) glue. A repair or a joint made with CA glue can be shaped, sanded, or finished within about five minutes. Another advantage is that CA glue doesn't add moisture to the wood, so there is no problem with wood swelling. If you sand a joint too soon after it was made with a polyvinyl acetate (PVA) glue, you can end up with a depression after the moisture has evaporated and the wood shrinks.
Fine Woodworking asked me to take a close look at this special family of glues to find out how woodworkers use it. While researching this article, I picked up great tips for its everyday uses in woodworking. I even tried a relatively new type of CA glue specifically designed for wood that is threatening to make inroads into yellow glue's long dominance. It's time woodworkers gave CA glue a second look.
A unique glue
CA glue is an acrylic resin that does not dry, but rather reacts or polymerizes in the presence of water, either in the form of vapor in the air or moisture in the wood. Unfortunately it is this reaction with moisture that causes CA glue to have such a short shelf life; the moisture in a half-used container will cause the remaining glue to harden. CA glue will not work properly on a highly acidic surface such as tannin-rich oak. In a case like this you need to use an accelerator (also called an initiator), either applying it to one surface and glue to the other, or applying accelerator around the joint after the two parts are joined. An accelerator is also handy for repairs, eliminating the need for clamps.
Be extra careful when handling CA glues. read the directions about what to do if you get some in your eye or if you glue your skin together. In the latter case, some glue manufacturers tell you to apply acetone, others to hold the skin under water, but in either case gently rub the bonded area back and forth until the glue dissolves. Don't try to pull the "joint" apart, because you risk tearing the skin.
While most generic CA glues have a low viscosity, meaning they are thin and runny, you can also buy medium and thick varieties designed specifically for woodworking.
For the full article, download the PDF below:
View PDF