JessEm - Clear-Cut TS Stock Guides
Top mounted tablesaw hold downs.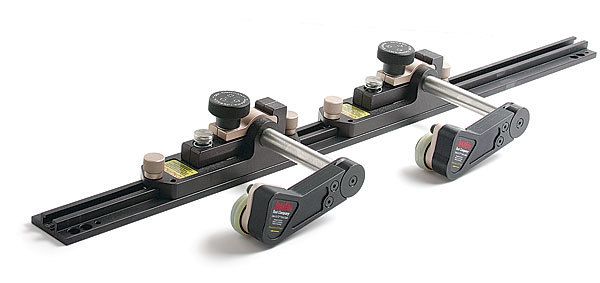 Hold-downs improve tablesaw safety
When ripping at the tablesaw, it can be difficult to keep the stock tight against the fence, especially long, heavy boards. Push sticks and featherboards help, but Jessem Tool Company makes a fence-mounted hold-down that works better at controlling boards during ripcuts. Called the Clear-Cut TS Stock guides, this system features two urethane wheels mounted to a spring-loaded arm that's anchored to a T-track attached to the rip fence. (Jessem provides the mounting hardware.) The spring tension on the hold-down arm allows boards to feed easily under the wheels while keeping them tight against the table. The wheels are canted 5° toward the fence to help pull the stock toward it. They rotate in one direction only, which prevents boards from being pushed back by the blade's rotation. The wheel and arm assemblies lock down anywhere along the T-track, and can be moved as close to the fence as 3⁄8 in. and as far away as 3 in. when not in use, they pivot out of the way and store on top of the fence. overall, the guides do an amazing job of holding down boards.