Tool Test: The Jack of All Planes
From flattening to smoothing, the No. 5 can do it all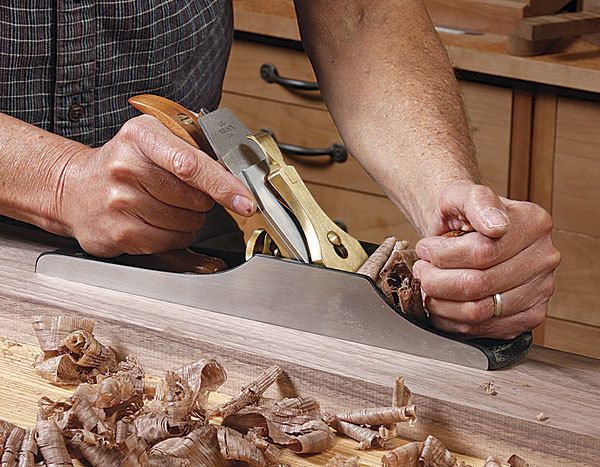 Synopsis: A true jack of all trades, the jack plane can handle smoothing as well as shorter planes, and it comes in handy for the flattening and straightening tasks that are often the job of longer planes. Jeff Miller tested 12 jack planes to see how well they handle a variety of tasks. He also took a look at some low-angle jack planes, which offer even more versatility.
Jack planes are the workhorses of the shop and the go-to tool for a variety of woodworking tasks. The jack plane handles smoothing as well as the shorter No. 2, 3, or 4. It also can be used for the flattening and straightening tasks often reserved for the longer planes: the No. 6, 7, or 8. As its name suggests, this plane is a jack of all trades.
Ideally, a jack plane should be capable of taking very fine shavings and leaving a great finish, and yet be able to remove lots of wood in a hurry when set for a deeper cut. It should also be adept at jointing edges prior to gluing up a panel. With all of these important attributes in mind, I put 12 jack planes through their paces to see which ones I'd give a permanent home in my workshop. The list includes planes from Clifton, Footprint, Kunz, Lie-Nielsen, Stanley, Veritas, and Wood River.
A close look at the critical parts
After unpacking and degreasing the planes, I checked the soles for flatness, and looked to see if the sides were ground square to the sole, critical if you're going to use the jack for shooting (a task it is well sized for). All but a few planes needed some work to flatten the soles, and some needed work on the frogs. The least expensive planes in the test needed a lot of work.
Blade and chipbreaker- All planes need sharpening out of the box, a straightforward job. But if the back of the blade isn't ground flat at the factory, you have some labor to do. I flattened and polished the blade backs and sharpened all the blades. The amount of work required varied among the different models.
I also looked at the chipbreakers to see if they made solid contact with the plane iron, and if they were stamped or machined. Without perfect contact, the blade will vibrate and chatter, and any gap can cause chips to clog the plane. The stamped type are thinner and generally need more attention to ensure they contact the back of the blade properly. Because they're thin, they don't dampen vibration at the tip of the blade as well as the thicker, machined chipbreakers. But even the machined chipbreakers will occasionally need fine-tuning to be sure that they seat well and that the machined contact face is smooth and flat.
For the full article, download the PDF below.
View PDF