Book-matched Veneer Panel
An easy way to start adding veneer to small projects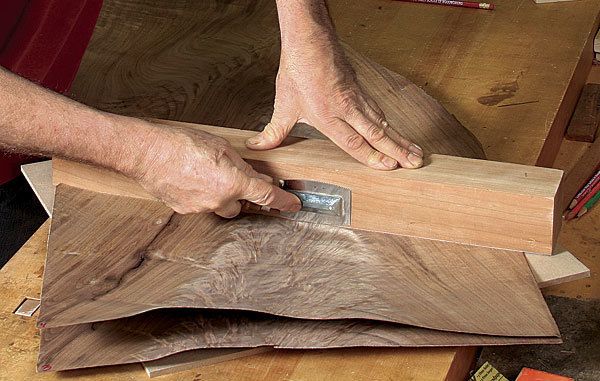 Synopsis: Learn traditional veneering techniques with this book-matched panel that is the crowning detail of Bob Van Dyke's box project. Learn the basics of choosing veneer, flattening it, using mirrors to visualize the book-match, marking out the cuts and matching the seams perfectly, taping the sheets together and gluing them to the substrate.
Some of the finest furniture made features spectacular book-matched crotch or burl figured panels, exquisite marquetry designs, and sunburst patterned tabletops, none of which would be possible without the use of veneers. Becoming an expert in veneering is a lifelong endeavor, but you have to start somewhere.
In this master class, I'll introduce you to the basics by showing you how to make a beautiful book-matched panel (used in my box project on p. 62). For small panels like this, you don't need a lot of equipment, just the veneer, a veneer saw, and some cauls…
Start your 14-day FREE trial to continue reading this story.