Book-matched Veneer Panel
An easy way to start adding veneer to small projects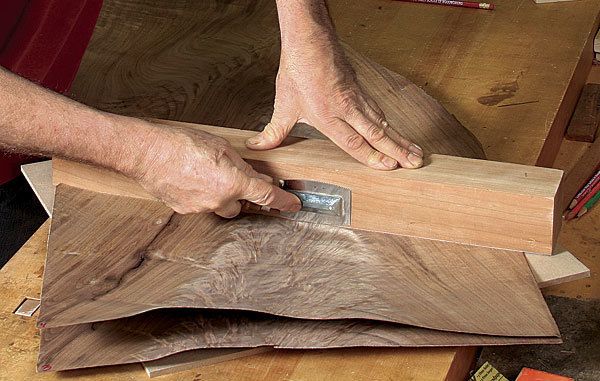 Synopsis: Learn traditional veneering techniques with this book-matched panel that is the crowning detail of Bob Van Dyke's box project. Learn the basics of choosing veneer, flattening it, using mirrors to visualize the book-match, marking out the cuts and matching the seams perfectly, taping the sheets together and gluing them to the substrate.
Some of the finest furniture made features spectacular book-matched crotch or burl figured panels, exquisite marquetry designs, and sunburst patterned tabletops, none of which would be possible without the use of veneers. Becoming an expert in veneering is a lifelong endeavor, but you have to start somewhere.
In this master class, I'll introduce you to the basics by showing you how to make a beautiful book-matched panel (used in my box project on p. 62). For small panels like this, you don't need a lot of equipment, just the veneer, a veneer saw, and some cauls and clamps. A mirror is handy, too, for laying out the pattern. once you master working with veneer on a small scale, I'm sure you'll be eager to take on bigger projects.
The design possibilities are endless, but your first foray into veneers should probably be a simple one. Using two sheets of veneer for a simple book-match is an excellent way to add veneer to any project. Almost any veneer with figure can yield a striking book-match, but one of my favorites is walnut crotch, which I used for this panel.
A book-match consists of two consecutive sheets of veneer stacked on top of each other, cut to size, and then opened like a book. It's perfect for a show face, but a less-spectacular piece of veneer will do for the hidden back side of the substrate.
Buying veneer is inexpensive compared to the equivalent solid stock, but it can be hard to find the right veneers. The best are usually available only from specialty veneer companies and the best source is probably online. Some websites have the actual flitch pictured and it's important when ordering to specify that the leaves must be sequence-matched.
It's best to buy at least one more sheet than you'll need and buy the thickest veneer you can—more than 1⁄40 in. is ideal. Many veneers sold today are thinner than that and are very hard to work with. Veneer, especially a highly figured sheet, does not come ready to use; you usually have to flatten it.
For the full article, download the PDF below:
View PDF