Simplify Dovetail Joinery with a Flip-Block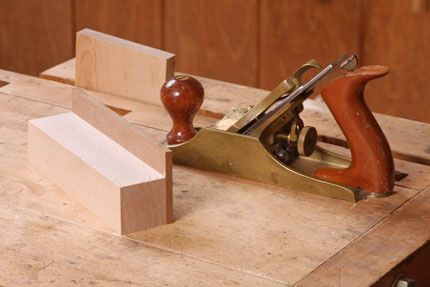 While producing an upcoming Video Workshop (look for it in this year's Tools & Shops issue) series with Mike Pekovich, I noticed him using a nifty little jig for scribing the pin board on a dovetailed drawer. It's so simple, and so handy, I figured I had to share it online.
Sure, You Can Use Your Handplane to Scribe Joinery
When it comes to cutting a dovetail joint, perhaps one of the most common methods to scribe the end grain on a pin board involves using a handplane to support one end of the tail board, while the other end rests atop the end of the pin board. This method works great, but why even bother lugging out your handplane? Keep this handy "flip-block" in your bench's tool till where it will always be at-the-ready.
Flip-Block Does Double Duty
Mike's flip-block is nothing more than a scrap of hardwood milled square, with a hardboard fence attached to one face.
To use it, he registers the hardboard against the end of the pin board as he slides the board down into place until the bottom face of the flip block sits atop the benchtop. Then the pin board is socked into place using the bench vise.
Next, he flips the block up and rests the opposite end of the tail board atop the square block. With the tail board firmly supported beneath his palm, he goes about scribing the tails onto the end of the pin board. Done.
1) This simple jig is nothing more than a square block with a bit of hardboard tacked on to one face.
2) Using a handplane to establish the height of your pin board above your benchtop is a pretty common method for preparing to scribe.
3) With the pin board sticking above the benchtop as high as the handplane is wide, it's easy to rest your board across the pin board and the handplane for scribing with a knife or pen.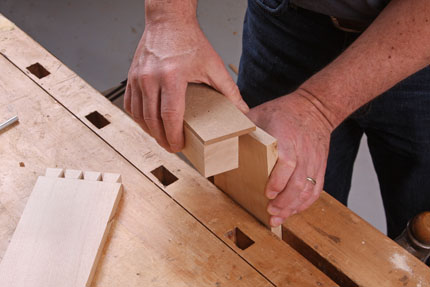 4) Mike's little stop block eliminates the need for the handplane. simple rest the block atop the pin board and clamp the board into place.
5) Now use the flip block over on the other end, to support the opposite end of the board while you scribe around your tails.