Bowsaw built in a weekend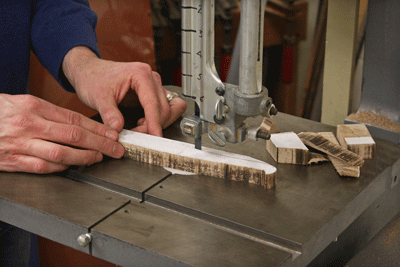 I usually use a coping saw to quickly cut out the waste between dovetails, and one day while messing around at a friend's shop I picked up his bowsaw. Right away I was impressed with how light and easy to handle the saw was, and the long blade gave it a really smooth and fast cutting action.
Soon after that I bought a kit from Grammercy tools to make my own, but circumstances didn't permit me to follow through on it until now- I'm glad to say that the saw is still a pleasure to use though. The kit comes a few different ways: you can get one with just the metal hardware and make all of the wooden parts yourself, or if you're not keen on turning, you can get a kit that includes the brass hadware and two wooden handles. I opted to make all my own parts, so I only bought the brass hardware and a variety pack of three blades.
The Grammercy folks make the blueprints available on their website, and they recommend hickory for the saw, but most hardwoods would probably work. I chose curly maple- after all, if I'm making the tool myself I can make it nice to look at too- and I won't be mistaking mine for someone else's either… Maple is pretty darn strong, so it should hold up for a long time. I used several wraps of heavy cotton twine to keep it all together- I've seen folks use everything from boot laces to leather cord for this, but as long as the material you use doesn't stretch a lot or break, it should work just fine. 
The saw is pretty simple, which made it an easy project. It was fast to build too, which kept it fun- I really didn't have much time to get bogged down in details. Before I knew it, I had a functioning saw and a new tool to play with… Now on to planning my next project- I'm hoping it involves dovetails…
For more about bowsaws, check out Build a Bowsaw.