Bowsaw built in a weekend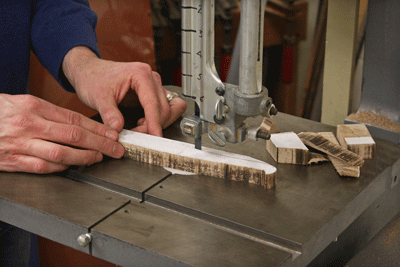 I usually use a coping saw to quickly cut out the waste between dovetails, and one day while messing around at a friend's shop I picked up his bowsaw. Right away I was impressed with how light and easy to handle the saw was, and the long blade gave it a really smooth and fast cutting action.
Soon after that I bought a kit from Grammercy tools to make my own, but circumstances didn't permit me to follow through on it until now- I'm glad to say that the saw is still a pleasure to use though. The kit comes a few different ways: you can get one with just the metal hardware and make all of the wooden parts yourself, or if you're not keen on turning, you can get a kit that includes the brass hadware and two wooden handles. I opted to make all my own parts, so I only bought the brass hardware and a variety pack of three blades.
The Grammercy folks make the blueprints available on their website, and they recommend hickory for the saw, but most hardwoods would probably work. I chose curly maple- after all, if I'm making the tool myself I can make it nice to look at too- and I won't be mistaking mine for someone else's either… Maple is pretty darn strong, so it should hold up for a long time. I used several wraps of heavy cotton twine to keep it all together- I've seen folks use everything from boot laces to leather cord for this, but as long as the material you use doesn't stretch a lot or break, it should work just fine. 
The saw is pretty simple, which made it an easy project. It was fast to build too, which kept it fun- I really didn't have much time to get bogged down in details. Before I knew it, I had a functioning saw and a new tool to play with… Now on to planning my next project- I'm hoping it involves dovetails…
For more about bowsaws, check out Build a Bowsaw.
I started by machining the rough stock to size and gluing on the patterns with liquid hide glue, then cut to the lines on the bandsaw.
Smoothing the saw kerf comes next. I started out using a file, and finished the job on an oscillating belt sander- the sander made quick work of smoothing, and changing to a small diameter spindle made refining the small inside curves easy.
Two unglued mortise and tenon joints help keep the saw together,and I cut them on the hollow-chisl mortiser. With a little more forethought, I would have cut these and also the holes for the brass pins before bandsawing, but it still worked fine to do it this way.
Only a few more cuts and they will be finished... The saw frame is tapered and gets thinner near the top, so next I marked the tapers and cut them on the bandsaw. After that I drilled holes for the brass pins, using the drill press to get them nice and straight.
I marked the tenons with a cutting gauge and rough cut them on the bandsaw, then chiseled the tenons to fit, and trimmed the curved shoulders to shape.
With a little dry-fitting and paring with the chisel, the joints fit nicely.
I turned handles on the lathe from the same material: curly maple. After the main shaping, I left them attached and sanded them on the lathe, then removed them and cut off the stubs and smoothed them by hand. Then I drilled the holes in them for the pins.
Next I removed what was left of the patterns- I used hide glue to stick them on, so a little water and a card scraper took them right off. Then I used a small round file to chamfer all the corners and then sanded the parts with P220 grit sandpaper to smooth them for finishing.
With all the parts made, I put on the finish, rubbing on a quick thin coat of boiled linseed oil followed immediately by padded garnet shellac. The shellac builds quickly- I really love the speed of using it, and it's really durable too.
A little 2-part epoxy locked the pins in place in the handles. Pre-finishing them before this step really paid off: I had a little epoxy squeeze out from behind the pins, but after hardening for about 20 minutes it was still pliable and easy to peel off, and left a perfect clean surface.
I strung it up and tensioned the blade. Three loops of heavy cotton twine around the frame seems to be holding up great. It can be tempting to keep spinning the toggle, so to make sure not to over-tension the saw, I tighened it gradually and tested the blade tension to know when to stop.
A bowsaw with a narrow blade like this one can make very tight turns, and is the perfect tool for quickly wasting material between dovetails and cutting out curved parts.