My New Source for Great Reclaimed Furniture Lumber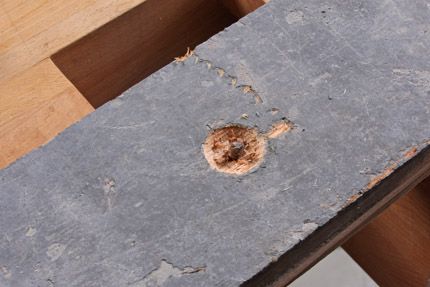 Lumber is expensive-so any time I come across cheap cherry, mahogany, or other hardwoods at garage and estate sales, I pounce. Case in point: last summer I scored a beautiful piece of Honduran mahogany measuring 5-ft. long by 6-in. square for a whopping $15. To put that into perspective, let's assume a board-foot price of $16 if you were to shop for that wood at your local hardwood dealer. My board would have cost me a total of $240 had I purchased it via the conventional route.
Granted, that purchase was the result of sheer luck-and not likely to happen again anytime soon. Sometimes however, you need look no further than the wood under your feet for a treasure trove of great lumber. During some recent renovation work on a 100-year-old sun porch at my home, I was pleasantly surprised when I began to pull up the original 6/4 decking. That decking, covered in multiple layers of grey and black paint, was beautiful doug fir sporting nice straight grain that's not so easy to find these days. After getting rid of all the nails and resawing away a thin slice of one painted face, I was able to mill up a sizable amount of furniture-ready lumber that would have otherwise found itself in a dumpster.
My next score? After becoming acquainted with the superintendent of a golf club near my home, I went to work helping him source a sawyer willing to mill up some of the beautiful oak and cherry trees he was forced to take down to make way for a new fairway. The club will be using the timbers to build some small bridges traversing various streams on the property. You can bet I'll be weaseling my way into a few board feet out of that deal.
My point? Lumber isn't always sourced from dealers and yards. Sometimes a bit of creativity can go a long way towards stock-piling your workshop wood supply.
3) Next, I used an old chisel to excise the material between the circle defined by the plug cutter and the screw.
7) Beautiful rift-sawn grain.
6) With the old paint removed, I was able to mill as usual. These doug fir boards will make great furniture parts
1) Recently while doing a bit of renovation work at my home, I saw promise in some 100-year-old floor boards. Follow along for the process I used to turn them into great furniture lumber.
2) The first step was to remove some old screws that no longer had their heads attached. I began by using a plug cutter to cut around the offending screw shanks.
5) Paint is a big no-no for jointer and planer knives. I've found that the easiest way to clean it away is with a quick and thin resaw cut at the bandsaw.
4) With the material around the screw shank cleared away, I was able to grab onto the screws using a pair of vise grips, and turn them free.