Powertool Essentials
Online extras for our special issue covering power tool and machinery techniques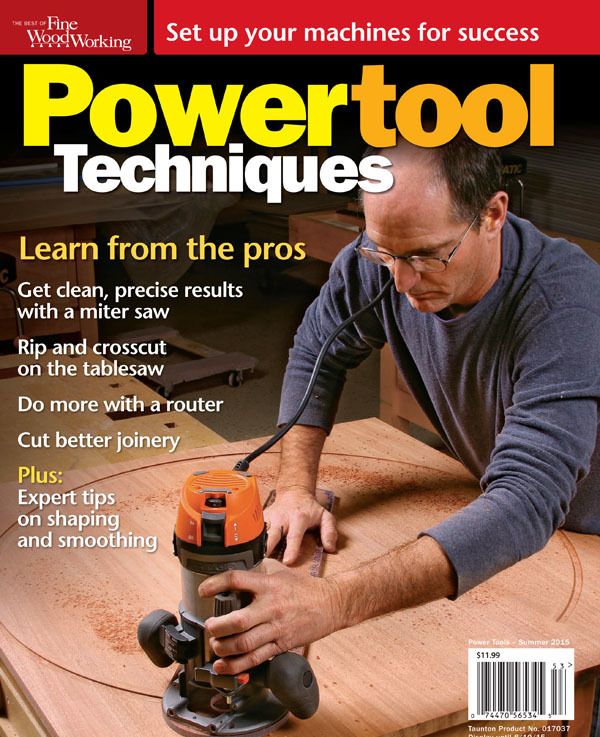 Carpenters are fond of joking: "How many woodworkers does it take to build a bed? Four; three to build the jigs and one to build the bed!" Maybe woodworkers get the last laugh, however. Almost every tool benefits from being used with multiple jigs, and as the articles in Fine Woodworking's special issue on Powertool Techniques show, woodworkers have been amazingly creative in coming up with numerous variations.
You'll be hard-pressed to find this type of information in the manuals that came with your power tools. Once you've stripped away the legal disclaimers, the instructions for use are pretty basic, in part because they don't cover the use of jigs. All woodworkers—from raw novice to seasoned pro—will find at least one jig in our special issue that will give them an aha moment. Soon you'll realize that you can never have too many jigs!
Purchase your copy of our Powertool Techniques special issue today.
 ONLINE EXTRAS FROM POWERTOOL TECHNIQUES

How to Hold Work for Routing
with Ed Pirnik


Learn a variety of ways to secure your workpieces for safer handheld routing.

  
How to Cut Dovetails on the Tablesaw
with Matt Kenney


Learn how to cut better, faster through-dovetails using your tablesaw and a standard rip blade.



   

Tablesaw Techniques
with Marc Adams
In this members-only Video Workshop series, acclaimed woodworking instructor Marc Adams demonstrates tablesaw joinery and safety techniques.

     

How to Change a Bandsaw Blade
with Asa Christiana


Learn how to properly install the right type of blade and say goodbye to blade drift forever.

   

with Asa Christiana
If you want to mill lumber yourself, jointer set-up is crucial.




 

  

Jointing Boards for Dead-Flat Panel Glue-Ups
with Michael Pekovich
Even if your jointer fence is out of square, this simple tip will ensure perfect edge joints
   
How to Turn Pulls without a Lathe
with Christian Becksvoort
Create custom door and drawer knobs using your drill press
   
Tablesaw Tapering Jig is Safer and Faster
with Mark Schofield
Learn how an adjustable leg tapering jig can easily cut two, three, and four-sided tapers on the tablesaw.
   
Pattern Routing Jig is Safer and Faster
with Matt Kenney
Clever jig makes pattern routing safer and faster.
   
Biscuit Joiner Tips and Tricks
with Asa Christiana
Learn how to harness the full potential of your biscuit joiner in Part I of our two-part series.
   
Versatile Tablesaw L-Fence
with Bob Van Dyke
Build a simple tablesaw fence accessory that handles a wide variety of joinery cuts.