Eye-Catching Upholstery for a Hand-Carved Chippendale Chair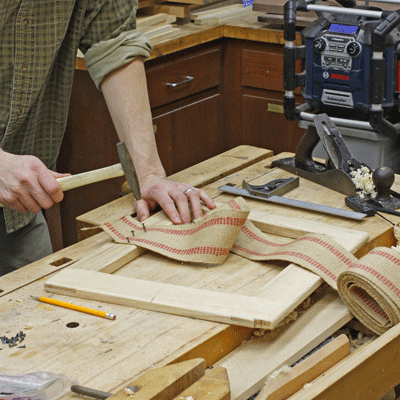 I built this chair from scratch, but the finishing touch of upholstering the seat is what brought it to life. It's comfortable to sit on, and despite my lack of upholstery experience, actually turned out looking pretty nice too.
I used traditional raw materials for the job: jute webbing, burlap, cotton muslin, and real curled horse hair. I also hammered in every upholstery tack by hand- no staple gun here. I don't judge anyone who does use staples, but for this traditional piece, I wanted it to be authentic, and I also wanted it to be around for a long long time. These materials have been used for so long that I have no doubt that my seat will be sittable for decades…
Check out the photos to see the process and let me know what you think!
Like reading about this chippendale chair? Learn more about them here.
Starting with a seat frame made of ash, I began tacking on the jute webbing, leaving about a 1-in. tail on the end of the webbing.
After sinking a staggered row of tacks in the end of the webbing, I folded the tail over, and hammered in another row, this time staggering them around the first row.
For a super strong seat, I used three strips of webbing in each direction, and wove them together. To keep the seat from sagging, the webbing has to be stretched really tight. It's pretty simple, but you need a webbing stretcher to do it- mine is an English style that I made myself from some hardwood scraps.
With the webbing finished, I tacked down a burlap covering over it. Next I'll stuff the seat with horse hair, and the burlap provides a nice foundation to put it on.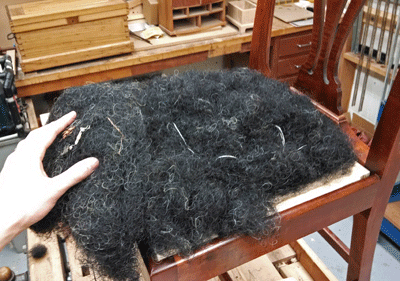 Curled horse hair provides most of the cushioning in the seat. I covered the seat with a uniform layer of hair, then stitched it to the burlap and kept stuffing the seat until it was shaped nicely with plenty of cushion.
Next I stretched a thin muslin cover tight and smooth over the horsehair and tacked it to the bottom. Then came a layer of cotton batting over the muslin... I trimmed it to the shape of the seat, and rounded the top edges on all four sides too.
Since this is a one-off side chair and not part of a set, I chose a brightly colored fabric with an interesting pattern so that it can stand alone in a room without looking like an orphaned member of a set. To choose how to align it on the seat, I fitted it in place and experimented until I liked the positioning.
Tacking the cover in place wasn't easy- I took my time to get the fabric straight and stretch it evenly over the cushion, first attaching it from front to back.
After the front and back were tacked down, I moved on to tack down each side, stretching it tight but making sure to keep the lines centered, and lastly trimmed off the extra fabric.
The last step was to tack a covering of thin black fabric called cambric onto the bottom to serve as a dust cover and close up the seat. I liked that it made the bottom look really tidy, even though it won't really be seen very often.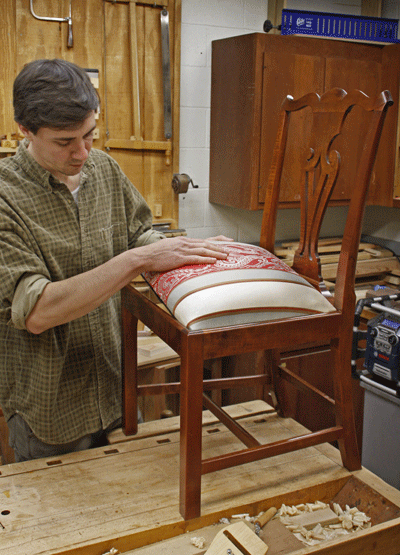 I popped the upholstered seat into the chair, then sat down to rest and admire my work. The seat is only held in place by gravity and friction, but some choose to put screws in from the bottom.
Building this chair was a long process, but it didn't finally come together until I dropped the upholstered seat in place. The formal, brightly colored fabric makes this chair able to hold its own in a room, and adds a lot to the chair by drawing attention to the other design features.