Woodwork On a Car? This Studebaker Fastback Has Jaw-Dropping Wood Grain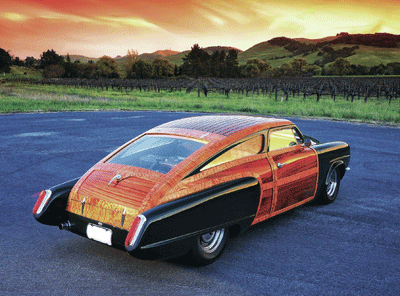 The car is based on a prototype that Studebaker developed for the 1951 model year. Studebaker wanted to create a woody that was more sedan than station wagon, but stopped the R&D and discarded the project. That was where Jim Gray stepped in. He's a professional woodworker and carver, and he's been at it for 30 years. A private collector had gotten wind of the concept, and hired him to do the woodworking on the project along with famed auto designer Alberto Hernandez www.ahdzmdesign.com, who started drawings working with an existing body, and came up with a chopped fastback.
The idea was to pay homage to the classic woodies of the past by building a unique, stunning hot rod. Working from Alberto's designs, Jim started with a plain maple frame with mahogany panels, but realized that the car would have a lot more pop if he used quilted maple for the frame, and sapele for the panels.  After building them, he coated them with auto clear urethane and brought it to a high polish. The gloss wood grain matched with the forest green of the body gives an effect that is stunning.
 The project took almost a year, all while going back and forth to the metalsmith for his part. It took a whole team of makers to complete it, too: besides Jim and his assistants doing the woodworking, there was a pair of metalsmiths that specialize in custom auto work, an engine speed shop mechanic that built the engine, a glass specialist who formed the windshield and hatchback window, and a specialty auto upholster… A real team effort.
The frame is connected to the steel structural members by threaded inserts and various fasteners. Because it needed to be taken on and off multiple times for adjustment, Jim used hardwood dowels along all the joints…  
"The trickiest joinery was the long corner rails that run from the windshield to the bumper. "When you're working with 2 boards that cost $4000, you have to get the best grain consistency you can… and I had to do it using stock that was already less than 2″ thick."
 There wasn't a section of this project that was anything less than compound-curved. Some parts had to be re-done because the shape of the parts kept the wood moving in unpredictable ways. During one part of the project, he had to work on different sections of the same panel at one time to see what shape it would take.
The project has garnered so much attention that Jim has had back to back auto projects ever since… including a full restoration of a 1926 Hupmobile with marquetry interior paneling on the doors, dash, and rumble seat. He also recently finished restoring the wooden frame of a 1942 Talbot Lago. His next project is a recreation of a boat-tail roadster in the spirit of an Hispano Suiza. To see more of Jim's work, check out his website Studio Gray.
To learn how to cut compound angles, check out this video: How to Cut Compound Angled Joinery.