Would You Drive a Wooden Scooter?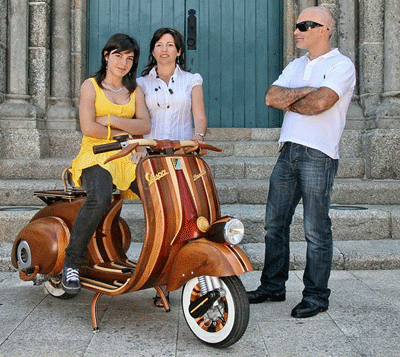 This scooter was truly an idea that came alive- the motor and working parts are original, but everything else was hand made and lovingly assembled by Carlos and his "Vespa design committee", a small but talented group of friends who advised him on the project. The 3 speed, 5hp scooter can go up to 75km/h, (that's about 45mph), and it weighs in at only 107kg, about 44lbs more than the original "non-wooden" model did.
Carlos got the idea to make a wooden scooter when he read a story in a woodworking magazine about an Italian carpenter who built wooden bicycles, and thought to himself that maybe one day he'd like to make a wooden bicycle too. A few years after reading the story, he joined the Pacos Ferreira Moto Club, which got him connected to other motorcyclists, and again his wheels started turning. I thought "why not make a make a wooden motorcycle?" Some time later, he was in bed with the flu and some friends came to visit him. When he told his friends the idea, they told him he must be delirious from the fever and everyone had a good hard laugh about it.
After the joking was over though, two members of the motorcycle club approached him: "Maximino and Eugenio Costa Cunha came to me and told me they wanted to help with the project." They decided to make it a Vespa scooter after talking to an old friend, the pharmacist at Carlos' local drug store. "He asked me when I was going to build my wooden motorcycle- he also happens to be the president of our local Vespa club, Freamunde Vespa Club. When I answered him "any day now," he suggested that "you really should make it a vespa instead…"
"I started the whole process by looking at a lot of Vespas, and finally decided which model to build when I was taking photos of a 1951 Vespa model VN1 with my friend from the Vespa Club. Upon starting the project, they began gathering all the information and parts for the scooter, and a couple of years later they had everything together. "That was probably the hardest thing about the project," he told me, "finding all of the original parts we needed to complete this vintage scooter… "Once I had all the parts, and had the whole project carefully planned out with my two friends, I started gluing up the first pieces of the scooter with the help of my wife Grace, and our daughter Daniela."
"Due to the scooter's open frame, I knew it would be a difficult project, but I quickly got busy working out problems in the design…" To make the scooter strong enough to stand up to the stresses of the open road, he and his design team decided to build it around a sturdy frame of steel tubing. Then the uni-frame was laminated up from long, continuous pieces of wood. He used a lot od different woods to color the project and give it style: Rosewood, Ebony, Beech, Satinwood, Jatoba, African Paduk, Sucupira, Sycamore, Efizelia, and Panga-Panga… a wood similar to Wenge. He said his family was a big support to him while he was building the scooter, and they actually helped him with the work too. At the end of the project, he named it after his daughter, Daniela.
If you liked seeing this wood on wheels, check out this Wooden Supercar, and watch the video.
You can also see more photos of Carlos' full project here: www.carpintariacarlosalberto.com