Porter-Cable - Porter-Cable- PCL212IDC-2 12v Compact Lithium Two Tool Kit
12-volt drill and driver work hard, cost less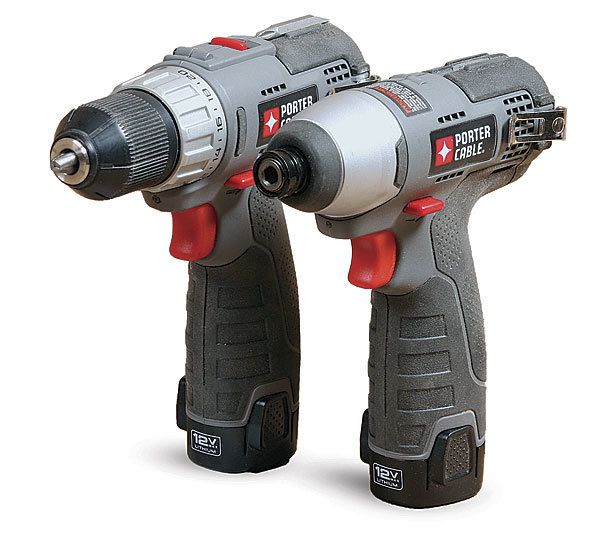 Too Much Vibration
From FWW #245 (January/February 2015)
By Kit Camp
Drill test – 3/8-in. holes: 22
Drill test – 3/4-in. holes: 5
Driver test – 3-in. screws: 43
Driver test – 4-in. screws (inches driven): 1-5/8 in.
Street price: $130
Batteries:  1.3 amp-hours
The Porter-Cable tools are compact and fully featured: The drill has a locking chuck, and both tools have a belt hook and a small magnet to hold a spare driver bit. Unfortunately, they tested near the bottom and the driver vibrated excessively, making it hard to keep the bit engaged.
From FWW #217 (January/February 2011) 

By Asa Christiana
I first blogged about Porter-Cable's new Compact Lithium Two Tool Kit (PCL212IDC-2) at the big IWF trade show in August, where I called it the "best deal at the show." For a surprisingly low list price of $140, you get both a 12-volt drill-driver and a 12-volt impact driver. Compact and versatile, it seemed like the ultimate cordless kit for a woodshop. Chuck a drill in one and a driver in the other, and you can work quickly without pausing to switch bits.
But I wondered whether 12 volts would be enough for my toughest tasks. After giving these drills the nastiest tests I could cook up, all doubts were erased. Both tools easily sank long, 5/16-in.-dia. lag bolts into fir studs with no pilot holes. Then I did the same test in hard maple, with 3/16-in. pilot holes. Even then, the drill-driver managed a full inch of penetration and the impact driver 1-1/4 in., which is only 1/4 in. less than my 18-volt drill was able to do. This is more than enough power for woodworking—and all but the toughest carpentry tasks around the house.
The tools also have an impressive array of useful features: LED worklight, metal belt clip that switches sides, plus a magnetic slot on top that holds your mostused bit.
If you are ready to replace your old cordless drill, or you've been flirting with the idea of buying an impact driver, you won't find a better deal than this kit. It includes the two drills, two batteries, and a 30-minute charger in a soft-sided case. For more information, go to deltaportercable.com.