Tool Review: Festool T 18+3 cordless drill
Outstanding cordless drill stands out from the pack.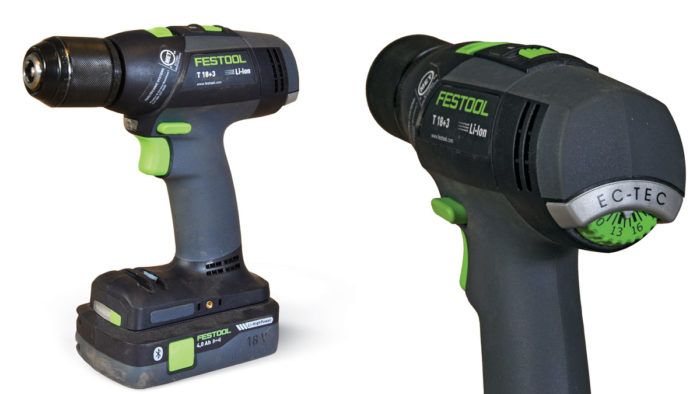 In the mob of Available cordless drills, Festool's new T18+3, with its impressive electronics and smooth brushless motor, stands out.
The drill has two main speed settings, 0–450 rpm and 0–1,500 rpm—pretty standard. But it also has two function settings for each range. One function is drilling. The other is driving, which uses a pre-established torque setting. The speed and torque of the driving function can be changed, independent of the drilling speed, via an adjustment wheel.
Switching between the two without the need to adjust a clutch is a big plus when drilling and driving multiple screws. I used this champ for heavy boring without a stutter and then drove fairly small screws by simply shifting from drill to drive.
There is no chuck clutch. When maximum torque is reached, the drill stops with an audible alert—a very accurate way to avoid overdriving screws. The alert will also sound if the battery is overloaded, overheating, or low on charge.
The drill is very comfortable to use, and the grip offers traction even with wet hands. The 5.2 amp-hour, 18-volt low-profile battery has great reserves of power, and its light weight keeps the drill from becoming tail-heavy.
Festool is offering an impact driver, the TID-18 ($200 without a battery), as a companion. It provides lots of driving force. The impact driver has three speeds that can be selected on the fly.
—Roland Johnson is a contributing editor.
Photos: Roland Johnson
From Fine Woodworking #285