Shaker barn inspires a turned box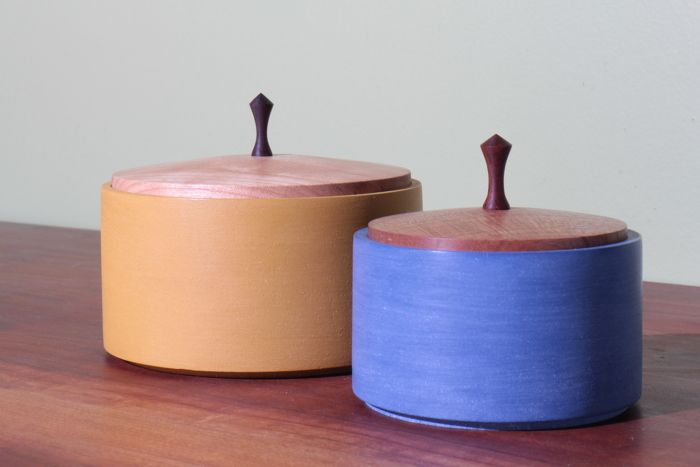 I'm very luck to live less than two hours from Hancock Shaker Village, which is just outside Pittsfield, Mass. I've been several times, and I always leave with an inspired heart and a head full of ideas. Perhaps the most notable building at the village is the big round barn. It's beautiful, and I love it. (There's a picture of it above.) I suppose it was always sitting quietly in my brain, waiting for the right moment to jump up and inspire me. That moment came recently when I was thinking about Shaker oval boxes. I was wondering how I could put my own spin on this classic Shaker design. And the round barn creeped into my thoughts, and it hit me: Turn a box on the lathe that looks like the round barn at Hancock Shaker Village.
As I wondered how I would do that, I begin to think about some other boxes I've made, and realized that I could combine a round box inspired by the barn with the key elements of those other boxes (you can see a photo of them above, too). They were a very good match for one another.
Here's what I took from the barn: the basic proportions of the round box, and the separtion into bottom, lid, and lift. From the previous boxes I took rabbet at the bottom that raises the sides of the table (and creates a shadow line), the lid that sits in a rabbet, and the combination of three different woods. Taken a further cue from the Shakers, I painted the box's body with milk paint to create the third wood's color. The two round boxes pictured here have different diameters and aren't the same height (and I'm now making them in three different sizes).
Round barn box. These turned boxes were inspired by the round barn at Hancock Shaker Village, and by the key design elements of other boxes that I make.
The round barn. This is it. I love the proportions, how the yellow level steps back, and the round cupola up top.
Something borrowed. I've been making this box for several years now, and I used the raised side, sunken top, and play of wood colors in the round boxes.