Time for a Little Turning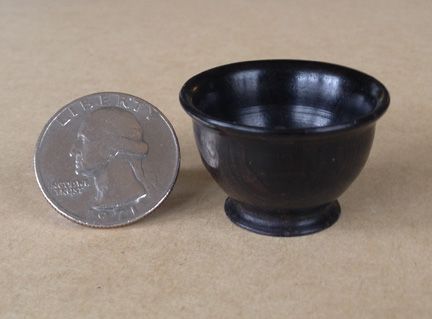 I've been on the road for most of 2014, so until recently I couldn't spend much time at the lathe.
However, I did find time to do a little turning, as you can see from the photo.The miniature bowl is blackwood, which closely resembles ebony and turns like a dream. I have a half-dozen little pieces of the wood, each measuring about 1-1/2 in. square and 5 in. long. I used a chuck with long jaws to hold one piece as I shaped the bowl at the free end, hollowing out the endgrain.
Turning the outside of the bowl was pretty straightforward. I used a 1/4-in. spindle gouge, a 1/2-in. skew, and a small Easy Wood Tools finishing scraper.
To hollow the inside, I first drilled a small depth hole with my tiniest Forstner bit. Then I used a hollowing tool that had been ground from an Allen wrench. All my other tools were too big.
As you might imagine, this project didn't take much time at all. I doubt I spent more than twenty minutes at the lathe. Once I had shaped and sanded the piece, I finished it with a couple drops of friction polish. I parted it off with a conventional parting tool, which left a nub on the bottom when the bowl broke free. I sanded that flat and applied some friction polish.