Does The Tree In My Front Yard Have Value? Part One: No and Yes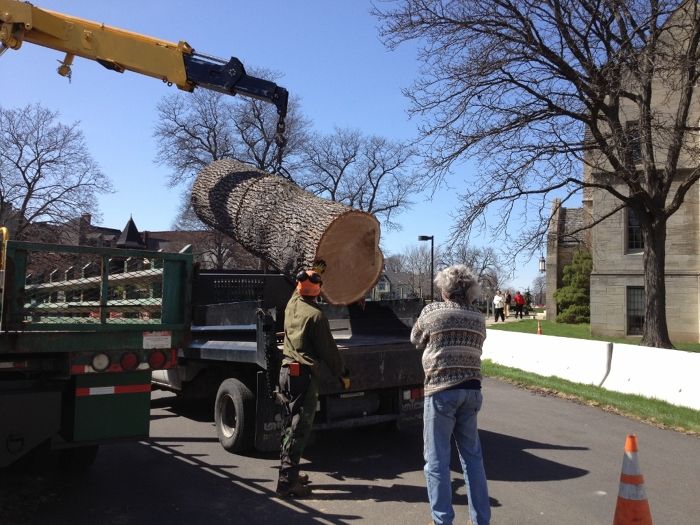 ---
---
Advanced Veneering and Alternative Techniques
elevate your woodworking to a new level with the use of veneer
---
 (Part Two: Will Your Tree Make The Cut?)
It seems like every year I get a call from a friend telling me about a tree that just fell in their front yard, or that needs to come down, and asking if I would be interested in it. They want to know the value, too, often thinking they just hit pay dirt.Like most things, there are two sides to this story.
My first answer is usually no.
It takes a lot of time and effort to cut, move, and clean up a site, let alone store, mill, and dry the wood. Even if it is a high value tree such as black walnut, there's not much I can do if a mill won't cut it. There's a good chance that these "yard trees," as they are referred to, can contain nails and other hardware which will wreak havoc on saw mill blades. Often, mills will refuse to cut the first ten feet of the tree, which has the best lumber, and is most likely to contain metal. Sometimes they'll use a metal detector, but that doesn't always work, especially if the tree is particularly old and large diameter. The fact of the matter is, the majority of yard trees are not very valuable in terms of lumber, so tree owners beware.  
Nostalgic value is another thing altogether.
Pieces created using lumber from these sentimental trees has an intrinsic value, and the furniture created will become more than something functional. Owning a piece of furniture that is made from a yard tree, perhaps one that was planted by one's great grandfather, or the tree that one's children played in, can have great value. It will have a soul with a wonderful story and become a valued family heirloom. The extra effort is well worth preserving the history within the piece, so woodworkers beware.
There are a lot of issues to be considered, starting with making the right first cuts. You need to determine how much lumber the tree will yield (probably not as much as you think); what types of cuts should be made (plain sliced, quartered or crotches); live edge or sap / heart wood, what lengths and where to exactly place the chainsaw.For example: if you want crotch material, it means you'll cut 24-inches back from each branch "Y".
Simply moving and transporting the logs can be a logistics challenge, too. Milling onsite with a portable band saw mill or chainsaw setup is a viable option but is more expensive than delivering to a mill. Chainsaw systems are great for extra large-diameter logs and often the only option, but they are slow, they waste material, and they are not as accurate as a band saw mill
Next, you have to properly dry the lumber either by air or kiln, which takes knowledge and patience to avoid unnecessary checking, warping, bug infestation (not all woods need to be treated with insecticide), and material waste. In either method, you will need to know what you will be using the lumber for: construction or furniture, and the type: indoor or outdoor, each requiring different moisture contents.Time of year the lumber is cut, milled, stacked, in addition to thickness, species, local humidity and temperature all effect air drying times.For estimated air drying times of a variety of hardwood species in different areas across the United States, you can visit the USDA Forest Products Lab.
The boards need to be properly stickered (stacked boards separated with sticks for ventilation during drying), and the stack protected from the weather with plenty of air movement. I like to tightly strap bundles with metal banding to help contain them.
Kiln-drying a single tree can be a challenge as driers do not like to deal with small quantities, various thicknesses, and different lengths. Other considerations are moving, sorting, storage, grading, selling extra material, and more handling.
You also have to remember that it is important to seal all end grain immediately after cutting any green wood, and with burls, you seal the entire piece. (Note: to preserve bark on a live edge, it is best to fell the tree in the winter months.)Once a burl is roughed in within one inch of the final thickness, I treat the green lumber in PEG (Poly Ethylene Glycol) which displaces the water within the wood cells, stabilizes the lumber, and helps prevent checking.
So before you consider turning your yard tree into a piece of furniture, be sure you know what you're in for.
Check out Part Two: Does Your Tree Make the Cut?, and see what happened to me when I said yes.
Loading large logs require heavy equipment
First layer of white and red oak logs
band saw mills have limits, and we maxed this one out. Often I had to cut the tree lenght wise with a chain saw to make it fit.
Adding a solution of PEG and water to a freshly rough in vase will help prevent checking. I use a closed loop heating system to speed up the process.
For extra large onsite milling, portable chain saw mills are the only option. This 16 HP saw can cut 68" wide x 18 foot long slabs.
Grading and sorting the materials takes extra time, room and a strong back.
Large chuck including the center pith with burried nails that caused iron stains.