AWFS: Space-saving router table makes no compromises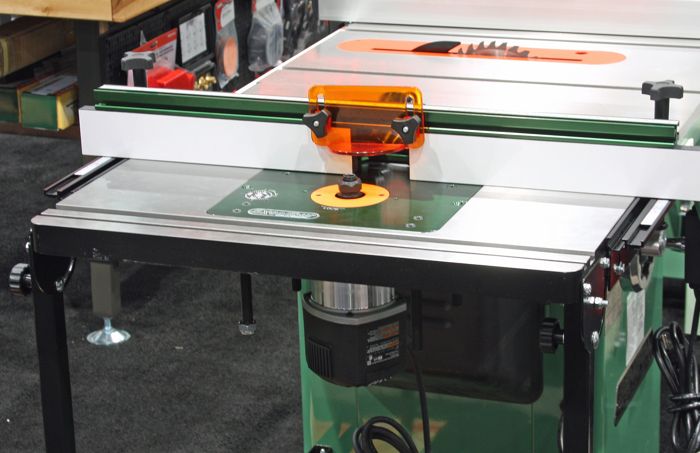 General just launched a tablesaw-extension version of its excellent cast-iron router table. Without giving too much away, I know the stand-alone version is great because we are testing router tables in the FWW shop at this very moment, for an article in the winter Tools & Shops edition of Fine Woodworking (FWW #237), and the full-size cast-iron Excalibur is one of them.
As opposed to the stand-alone table (40-200C), the extension version (40-070EK) is a 8 in. shorter in each direction, designed to take the place of one of your cast-iron tablesaw wings, but its 16×27 top will still deliver full-router table performance, without stealing any of your precious shop space, and at only half the price ($400) of the stand-alone model.
It is designed to fit seamlessly on General cabinet saws, but will work fine for others with a few extra holes drilled in it. Its two outboard legs are fully adjustable to suit any table height.
Despite its lower price, it boasts all of the features that wowed us in our tests of its big brother: a flat, sag-proof cast-iron top for accuracy, a convenient insert-ring system around the bit, plus a full-featured fence with easy adjustment, sliding faces, T-track for attaching stop blocks and featherboards, and a dust port.
The basic setup comes with a phenolic insert plate you bolt your router to, but if it were up to me, I would add one of Excalibur's excellent router lifts (also a favorite in our tests) plus the dust enclosure that goes below the table to ensure near-dust-free operation.
Go to www.General.ca for more info and a list of dealers.