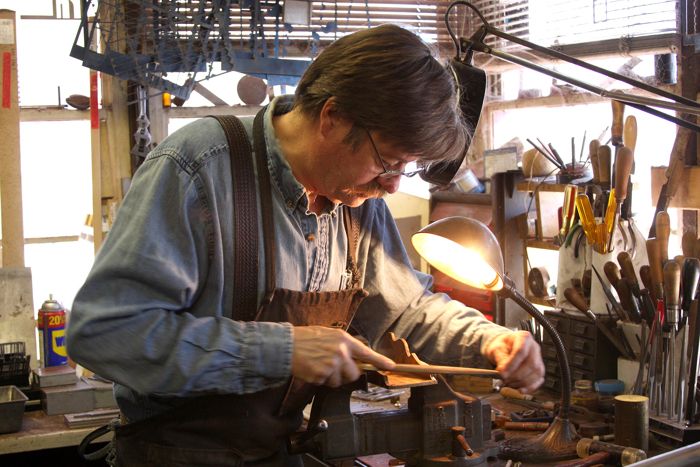 A drive down Main Street in Mesa, Arizona holds few surprises. Along with the tire shops and taquerias, there are the usual grocery stores, lawyers' offices, drive-through banks and car washes.
So imagine my delight two weekends ago when, driving to the Arizona woodworkers show, I rolled past this beautiful sign.
"Telescopes, Binoculars, Woodworking Tools."
Definitely worth a stop, I thought.
Next morning, I dropped in to the low, tan-brick building and met Bob Howard, proprietor and sole employee of The Saint James Bay Tool Co. Bob started his career, some years ago, as a tool-and-die machinist for the aircraft industry on Long Island. Today, he is a one-man handplane factory.
The company markets specialty planes for instrument makers, replacement parts for tool collectors and an extensive line of custom planes, shaves and other tools for everyday woodworkers. If you don't see what you want, just ask. If you can sketch it, Bob says, he can probably make it.
Except for the casting process (too hot and dangerous), Bob does all the work in a small, backroom shop, shouldering and side-stepping around four large milling machines, horizontal bandsaws, drill presses, grinders and buffing wheels. In one window-lit corner sits a small vise mounted to a bench crowded with containers full of files.
"I go through files like other people go through shoelaces," he says.
Bob builds each tool from a casting of silicon bronze, using his own design or one patterned after an older tool. When the rough castings arrive from the foundry (also in Arizona), he mills them true, files away the rough edges and fits the components together.
In a display case up front, he keeps examples of his work along with vintage tools from Stanley and other makers. And the forest of tripod-mounted scopes across the room? For sale by his father-in-law, who invited Bob to share the space decades ago.
"You'd be surprised how many guys come in and say – "these are my two favorite hobbies!," Bob says.
I found myself thinking a woodworker wouldn't need a second hobby to enjoy this place. If you're in Mesa, stop by. Just look for the sign.
Howard's bench benefits from a combination of task lighting and strong, Arizona window light.
Howard softens the edges on a bronze casting for a No. 7 jointer plane.
A former aircraft industry machinist, Howard's shop is crowded with metal-working equipment.
Tools for hand work. "I go through files like other people go through shoelaces."
Howard at the Bridgeport milling machine.