Bosch - FNS138-23
This nailer has a dry-fire lockout mechanism that prevents you from firing when you're out of pins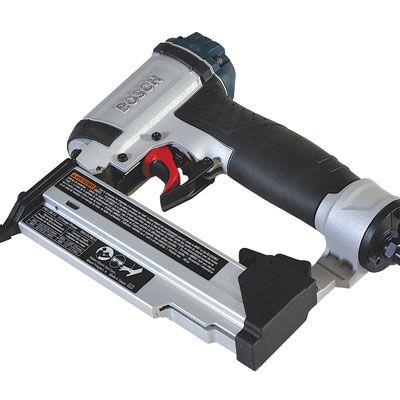 Bosch Builds a Better Pin Nailer
About a decade ago I bought my first pin nailer, and it's become a go-to tool in my shop. The tiny pins pop into place without splitting delicate wood or leaving much of a trace. I often use these as a replacement for clamps when I glue molding to a piece, say a crown molding that would be difficult to clamp in place accurately. It also works well to attach tiny molding where clamps can't reach, such as stops in glass doors, and it's a handy helper for assembling shop jigs.
Bosch has made all those jobs easier with a new nailer that's packed with useful features. First, it has a dry-fire lockout mechanism that prevents you from firing when you're out of pins. This is key for a pin nailer, as they leave almost invisible holes, so it's easy to go along for a while without realizing that you're shooting blanks.
The Bosch has an auto-length-setting device in the pin carriage, which makes it easy to use different-length pins without the need for manual adjustments. The carriage also has an indicator on the side that tells you when you're running low on nails, and it has a stepped shape to make it easier to angle the tool in tight places.
Some might grumble about the 1-3⁄8-in. maximum pin length, but it's plenty long for attaching stock up to 3⁄4 in. thick, and longer 23-gauge pins are hard to work with anyway. The nailer will fire any brand of pin, and it had no problem shooting 1-3⁄8-in. pins through hard maple, white oak, and jatoba—without any jams.
This new nailer is a winner.