Faking a Ship-Lapped Cabinet Back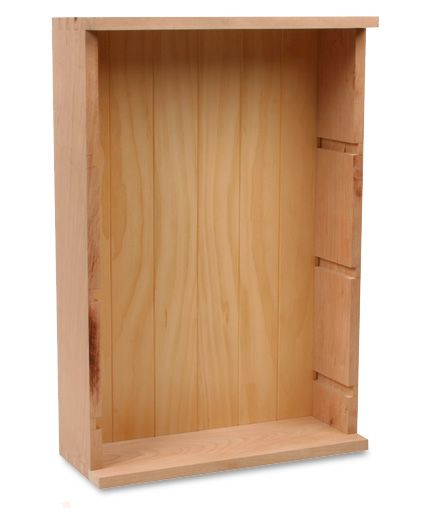 I have a habit of collecting various oddities from every country I visit. As a result, I've accumulated a rather sizable collection of small glass jars full of a variety of interesting little items meant to remind me of my travels. Highlights include a collection of cast-iron fragments from a 17th century canon that still guards the entrance to Havana Harbor, and even sand from the very beach my father's uncle landed on during the invasion of Normandy. This humble collection served as the inspiration for my most recent project: a glass-front cabinet made of cherry and pine meant to house these items.
I've already dovetailed the cherry case and decided upon a white pine cabinet back. And while I initially thought of doing a ship-lapped back, I've been a bit lazy lately and decided to set about faking it-at least to a certain extent.
To reproduce a pseudo-ship-lap effect, I mounted a thin kerf blade in my tablesaw, angled it at 45-degrees and lowered the blade until it just barely protruded above the throat plate. Then it was just a matter of making a series of evenly-spaced non-through cuts that served to represent the separate pieces of a ship-lapped back.
Another Reason to Buy a Cool Tool
I turned to the thin-kerf blade method after having been foiled at my attempt to mount a fantastically magical tool which I could never afford, in a SawStop tablesaw. The so-called Magic Molder is a 7-inch diameter cutterhead that holds a variety of custom heads.
I had planned on using a beading head but found that the 7-inch diameter made it unsuitable for use on a SawStop. Bummer, but then again, I most likely never would have used this thing had it not been for the fact that our trusty art director, Mike Pekovich had one laying around in a dusty cabinet. At about $150 for the head, and then well over $100 for each custom molding head, it's a bit out of my price range. That said, I plan on keeping an eye on "Mike's Magic Shop" for future furniture projects. Talk about a "cool tool!"
Instead of constructing a traditional ship-lapped back composed of multiple pieces of pine (in this case), I chose to mimic the look on a solid pine back. *Note: At this stage, the cabinet is undergoing its initial dry-fit.
A close-up of the cabinet back, framed by its cherry sides, highlights the simple non-through rip cuts used to give the effect.
For this bit of "fakery," I mounted a thin kerf blade in my tablesaw, angled it to 45-degrees and lowered it so that just a slight bit of the carbide teeth protruded above the saw table.
My original plan had involved using this, a "Magic Molder." This 7-inch diameter cutter mounts to your tablesaw and accepts a wide variety fo cutterheads. Seen here is the bead cutter. Although it's a wonderful little toy, the Magic Molder can be a bit pricey!
Then it was just a matter of marking the panel for evenly spaced lines and making the cuts, re-setting the rip fence after each pass.