The hobbit cupboard completed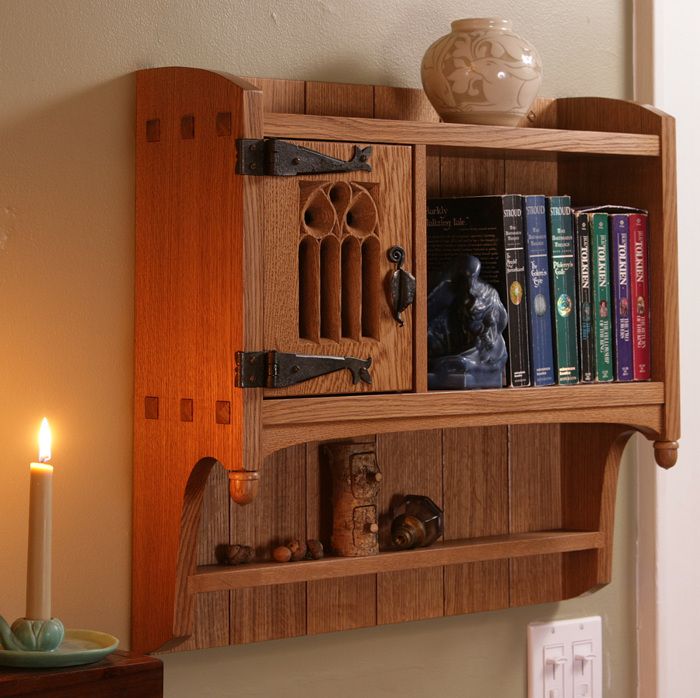 The hardware on this cabinet was the perfect excuse to team up with a young, talented blacksmith I had met while teaching at Peters Valley Craft Center. On a trip to Europe a couple of summers ago, I had come across a door on a building in a small German town with crazy wrought iron work on it. Ever since then, I'd wanted to try and incorporate something of the sort into my work. When I met Sam Salvati, I knew I had found the right partner. 
I sent Sam a picture of the cabinet in progress along with a chicken-scratch drawing of an idea for hinges and a request for something "hobbit-like". Not only did Sam come through with some great hinges, he he also worked up an incredible leaf pull which finishes the piece nicely. Thanks again Sam!
I had a lot of fun with the design of this cabinet, but I'd like to think that it is still true to it's Arts and Crafts roots.
A detail of the fantastic ironwork that blacksmith Sam Salvati created for the cabinet. The leaf pull was a nice surprise.
Here's the rough sketch which was all that Sam had to go on.
This door in a small German town inspired me to incorporate ironwork into my furniture.
Here are some basic dimensions for the folks who requested them. By the way, if you're making the shelf for a specific set of books, be sure to measure them first and size the shelf accordingly.