Reclaimed wood: Nail removing tips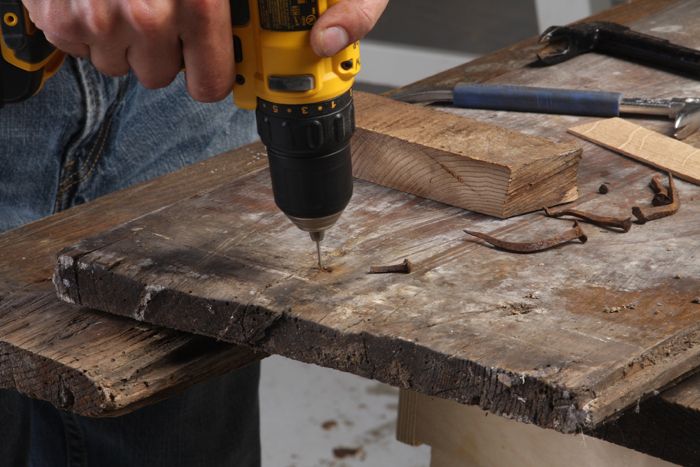 I'd like to share two tips for removing nails in reclaimed wood. The first is a technique that I use quite often. This one didn't make it into the article, but I thought I'd post a few photos (see above) and pass it along.
The second tip was sent in by reader Chris Layne (see text below) regarding the article on working with reclaimed wood in the current issue. It's one I've never tryed myself, but will in the future. Thanks Chris!
"I read with interest the article on working with reclaimed wood. I have reused old wood over the years for many projects. I find it indeed has more character and sensual appeal than the same species of freshly seasoned wood. 
I noticed the picture and caption of removing nails with a pair of side cutters to avoid marking the wood. I have removed many nails from old lumber and picture frames over the years, and there are some types of nails, such as fence wire staples and large rusted common nails, that are quite firmly seated in the grain of the wood. 
No amount of prying with a tool will remove the shaft of metal without breaking the nail usually flush with the surface of the wood. I found that if one heats the nail with a large soldering iron or othe source of heat, the nail will expand the metal and break the bonds of the years that develop between the wood and the metal allowing the nail to be easily removed with only minor damage to the surface of the wood. Of course the source of heat should be focused only on the nail and the wood should be protected.  Usually only the small hole remains and there is no other blemish left behind by this procedure.
Sincerely,
Chris Layne"
When a nail head breaks, simply drill a small hole on either side of the nail (or for very stubborn nails - all four sides), to relieve some of the pressure on the broken nail. I use a tiny dedicated drill bit for this purpose because it will eventually dull when bumping into the side of the nail as you drill. Any old bits you might find at a flea market or garage sale would be perfect.
Then use side cutters or needle nose plyers to pull out the nail. After the nail is removed, I'll fill the (slightly larger) hole with an irregularly shaped peg.