Preserving the Architectural Past in the Internet Age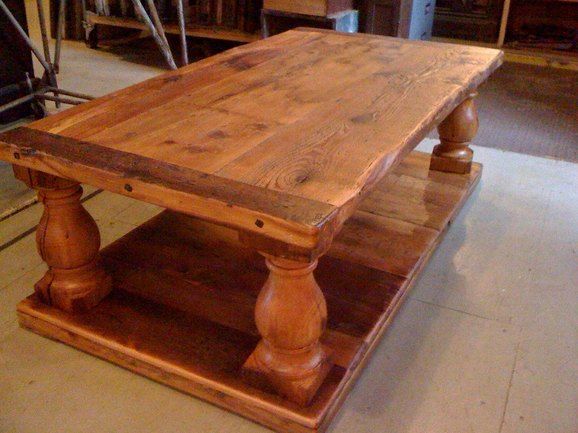 The distressed look is a wonderful way for a new piece of custom furniture to gain the appearance and character of an old heirloom piece, but when the item is actually made from salvaged antique elements, the furniture doesn't just look the part; it is a part of the past. Take this rustic table with white distressed legs by CustomMade furniture maker Tom Joyal of Old House Parts Co.:
This rustic table was created with two reclaimed antique barn boards, sanded until smooth, and finished in a deep brown still allowing the woods natural knots and markings to make their statement. The four legs are created from the knee braces of a turn of the century barn, painted white, distressed and worn giving this piece of furniture old world French farmhouse charm.
Working with reclaimed wood and other elements isn't just about adding historical and aesthetic dimensions to a project. For Tom, preserving the architectural past is also a green approach to building and a departure from the destructive manufactured obsolescence model of much of our economy, a realization he came to when he found himself demolishing houses by day while building new furniture by night:
"One evening I was distressing a new piece of wood to give it an older look for a project only to realize that earlier that day I had thrown away a perfectly good piece of older wood which would have been much better than anything I could possibly create," he recalled.
Tom's green odyssey and the creation of his architectural salvage and custom furniture business were featured in a Seacoast Online article, "Old House Parts Gives Old Things New Life," by Angus Macaulay.
Read Macaulay's entire article here.
Preserving the architectural past though vintage elements in new custom furniture requires connecting with customers who want these pieces. Makers, how many web visits, emails, or phone calls does it take for clients who have never set foot in your shop to settle on what they want from you? What's the greatest distance you've ever handled via the Internet between you and a customer you've never met face-to-face? Do you have a social media presence that can complement your word-of-mouth exposure? Please leave your comments below.