Greatest community shop on the planet?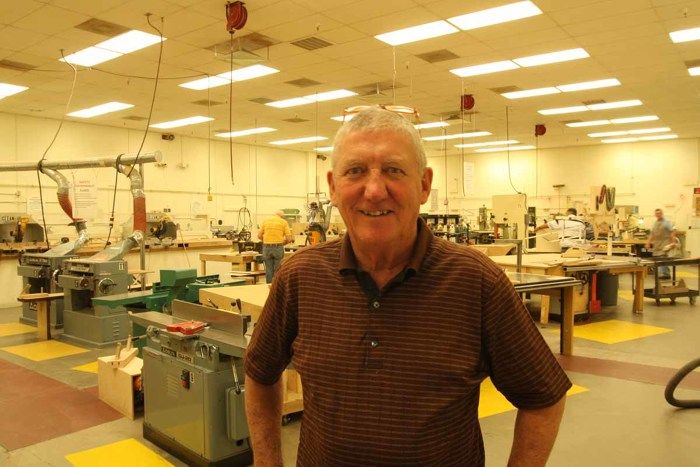 I visited Mesa, Arizona, last week to judge the annual exhibition of the Arizona Association of Fine Woodworkers, and while I was in the area, I shot an article on segmented turning with Art Breese, one of the show's past exhibitors. That brought me up to Sun City West, a huge active-retirement community about 20 miles northwest of Phoenix, and their amazing 7,000-sq.-ft. woodworking club.
Art had told me it was quite the facility, but I had no idea until I walked in the door, actually until I was allowed in the door by one of the "monitors," one of the 800 club members who volunteer time to man the tool crib, keep the library and computers up to date, hand out lumber, and so on.
I walked into woodworking heaven, with about 20 people working away at rows of tablesaws, miter saws, lathes of all sizes, drill presses, and even three machinists' vertical milling machines! And the massive bench room was home to about 20 other folks that day, either working at rows of benches and work surfaces, or just sitting at a center meeting table and shooting the breeze.
Woodworking is a solitary pursuit, most times, and this playground offers the best of both worlds, with the lone wolves doing their thing, and others friends just enjoying each others' company. What I really loved were how the more experienced people were guiding the less-so, and also the overall care and upkeep of the place. When you are retired, I guess you can afford the time to keep everything just as it should be.
Each person gets a small stack of chips when they sign in, and they use those to check things out, handheld tools, bits and special blades, even machines in high demand, like the lathes. And I saw every person cleaning up every bit of dust they dropped, which wasn't much, considering the state-of-the-art ducting that went to every corner of the shop, with floor-sweep ports everywhere you would want one!
Worst, or best, of all were the baked goods that kept appearing at that center table. I guess the spouses have time on their hands, too.
At 45, I've only got 10 years to go before they'll let me in!
(If you are seriously considering it, houses in the immaculate Sun City West neighborhoods are surprisingly affordable, at under $200K for a sizable one, and under $100K for a condo. The greater Phoenix area was hit hard by overbuilding and the real estate bubble, so there are deals aplenty.)
I was there to work with Art Breese, a retired engineer who loves segmented turning (right after golf).
The shop is massive, with a cavernous machine room.
Folks were hard at work everywhere I looked. No need for a shop at home, and you get to see your woodworking buddies every day!
The bench room is almost as big with acres of work surfaces, and storage cabinets for the most frequent shop users.
But the most popular spot is the meeting table, where guys hang out, muching on goodies from their wives. Coffee's on all day. What else do you need?
There is a complete library, with every woodworking magazine, plus new computers for watching videos, surfing the web, using design software, etc.
Need lumber? They buy it in volume and then sell it to members.
Everything has its place and is in good working order.
To have unlimited access to the shop, members must volunteer just one-half-day a month to man various stations. Walita Mroz was in the tool crib the day I visited.
There are lots of clever, helpful touches throughout, like these carpet-covered pass-over platforms on the wide-belt sanders (yeah, thre is more than one!).
This is the Sun City West Woodworkers Club. In this sunny Arizona community, most people's second vehicle is a golf cart, whether they play the game or not. What a life!