Furniture Dressed for Success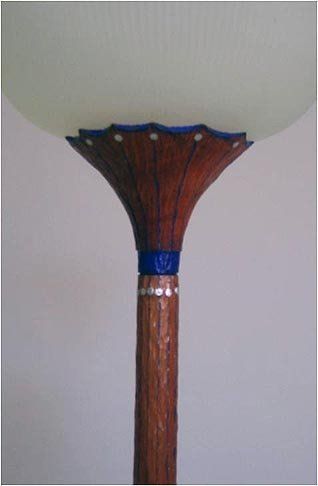 Draping clothes across the backs of chairs and sofas is a sure sign of home comfort (though it might frustrate some members of your family). Take a look at this bench with Sindhi shawl by Chrysalis Woodworks.
This piece of custom furniture, however, simulates that experience with padauk and mahogany wood, mirrors, and paisley. Artisan Sabiha Mujtaba explains:
We love to use drapes to cover and soften the look of a furniture piece in our homes. Here's a bench that simulates that feeling … in wood and tiny mirrors. The hand painted stain design has the paisley pattern used extensively in the Indian Sub-continent area, specifically in the Sindh region.
Clothing is a virtually universal medium through which we communicate our identity and style. If you do nothing else creative today, you've probably, if unselfconsciously, already expressed yourself through your wardrobe. If you find inspiration in your clothing, you can also express that vision through a fine custom furniture piece for your home.
This leisure suit chair by Dorch Design Studio juxtaposes "the restrictive yet high quality material of a business suit with the comfort and elegance of an upholstered chair." Artisan Jason Dorchester's goal is "to improve the quality of one's life by creating fresh and functional designs within their environments".
Woodworker Mark Levin of Mark Levin Studio finds inspiration for his works in the natural world, "leaves, flowers, fruit, sea shells, nuts, etc.". Things you can hold in your hand that are so perfect they make you say "Damn!" That inspiration is beautifully apparent in his award winning "Leaf Series" of furniture. When the graceful form of a leaf also evokes the billowing skirt from one of the most celebrated scenes in movie history, as it does in this Marilyn Monroe leaf shelf, there is only one thing to say, damn! This walnut shelf is the brunette version, however; if you prefer blondes, there's a version made in alder as well.
"Zoot up"! Dress to thrill and show your style!!" with the Zoot portrait mirror by Art of Furniture. Inspired by the zoot suits of the 1940s, this handmade mirror by Ira. A. Keer is a limited edition . It features maple, purpleheart, ebonized birch, brandied birdseye peach, brass, rubber, and glass and captures the spirit of this flamboyant fashion.
As you can see, when it comes to custom designed furniture, you're only as limited as your own imagination.