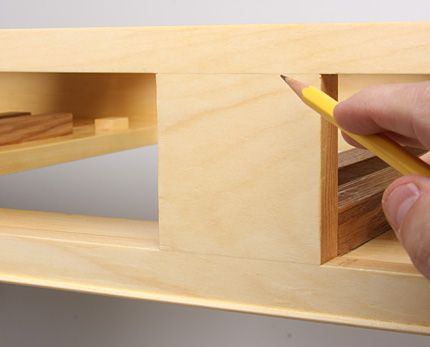 I generally keep two types of glue on-hand in my cubby here at Fine Woodworking: Titebond II (for general use), and water-resistant Titebond III, which I use for the assembly of humidors (I build a lot of them). Those of you familiar with these two products already know that the color of Titebond III is markedly different than it's more conventional yellow wood glue brother. The water-resistant stuff is generally the color of my coffee (a light brown – I like milk and sugar). That brings me to the point of this post.
While working on my current furniture project, a simple Shaker-style writing desk, I wanted to cut the drawer fronts out of the same board I used for the front apron (a common method used to ensure the grain in your drawer fronts matches up perfectly to that of the front apron). As the glue-up commenced, I realized I had forgotten to snag my bottle of conventional yellow wood glue. "Not to worry," I thought, "I've got a bottle of Titebond III right here on the shelf beside me." Big mistake.
I proceeded to glue up the apron (minus the drawer fronts I had cut out) using the brown-colored water-resistant glue and ended up with a very subtle, yet incredibly annoying, glue line as a result. Now, I know it won't bother my wife, or most anyone entering my home (except for the ocassional FWW editor popping by for a beer), but it will haunt me for the rest of my days.
Word to the wise: keep color in mind when you reach for that glue bottle! With any luck, my error will prevent you from making a silly mistake.
Ouch! The front apron of this desk now exhibits a strong glue line due to a dark-colored glue (Titebond III) having been used.
The marked difference in tone between these two wood glues is something to pay attention to when glueing up panels, where the seams between two boards are potentially very visible.