Enter to win a wooden kayak kit from Pygmy Boats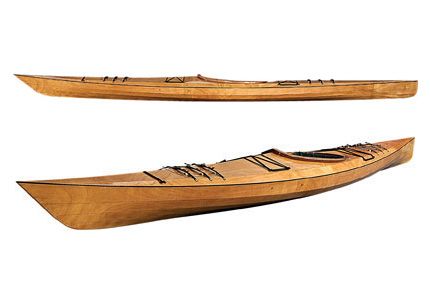 Regular readers of Fine Woodworking will recall our coverage of NBC sitcom star Nick Offerman's clever slab levelling jig in issue #222. That article, and the video tour of Nick's shop we ran at about the same time, made mention of Nick's background building wooden canoes. The article sparked a good deal of interest in his DVD on Fine Woodstrip Canoe Building, and while wooden boats aren't normal fare for FWW, one can't help but marvel at the inherent beauty of wooden canoes and kayaks.
For those of you interested in trying your hand at building a sea-worthy craft, you might consider entering Pygmy Boats' current drawing for a Coho Kayak Kit. The drawing is being held to celebrate the Coho's recent Reader's Choice Award for Best Wooden Kayak.
About the Coho
Voted Best Wood Kayak by Sea Kayaker Magazine's 2011 Reader's Choice Award! Pygmy named the Coho in honor of the famous Coho salmon of the Northwest. Like her namesake, she flows fast, light, and lean through the water.
John Lockwood created the Coho with the skilled paddler in mind, yet she is stable enough to delight beginners. Kayakers who enjoy high maneuverability and seek top cruising speed love this craft. John worked intensely at his computer and then produced 3 prototypes until he reached a perfect equation for the Coho: a quick turning, responsive hull carefully designed to track without requiring a rudder. She possesses more rocker than our other solo kayaks for those paddlers who enjoy that "flexible" feel. Her elegant four-panel deck and multi-chine hull look similar to our Osprey line–extremely pleasing to the eye. Yet the hull form underwater carries nuances that result in real performance differences.
Coho invited hot shot paddlers in the Northwest to sneak preview her and join in her sea trials. They rated her A+. John spirited her off for a 4-week solo paddle in Canada's Northwest Territories in the summer of 1997. Her performance in high winds and seas pleased him to no end.