Carter Products - Carter Products- Hollow Roller Vessel Turning System
The new Hollow Roller from Carter Products gives you everything you need to hollow a vessel of any size or shape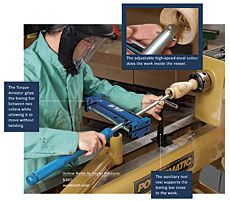 The new hollow roller from Carter Products gives you everything you need to hollow a vessel of any size or shape. Made to fit most lathes, from minis up to floor-standing models, the system uses two auxiliary tool rests to support the boring bar. One rest mounts in the lathe bed close to the work, while the other, called the Torque Arrestor, mounts to the banjo of the lathe's existing tool rest; but you'll need to purchase the appropriate stud adapter (sold separately, $20) for your tool rest.
The 3⁄4-in.-dia. boring bar has a 3⁄16-in.-dia. high-speed-steel cutter (included) on the end that can be adjusted to any angle. (Carbide replacement bits are available too.) The bar is held in the Torque Arrestor by two rollers that trap it but allow it to advance or retract and move freely from side to side. A flat on the bottom of the bar prevents it from rolling.
The quick-lock tool handle, made from extruded aluminum, is hollow on the end, so you can pour in some lead shot to give it more heft—which adds stabil-ity when you're hollowing a large vessel and need to extend the tool farther.
Carter is known for its bandsaw accessories, but I am very impressed with this foray into turning. The generous   diameter of the bar combined with the support just in front of the work makes for a very stable system. For more information, go to carterproducts.com.