Sturdy Yet Sprightly Base for a Thick Top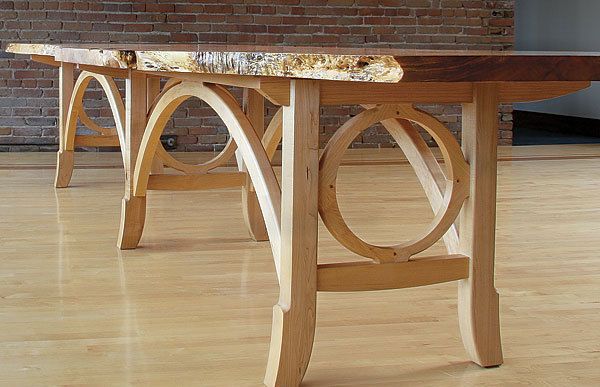 The bases Geoffrey Warner designed for his tables (FWW #222) have to work visually with the live-edge tops, but they also have to be powerfully built to support slabs weighing hundreds of pounds. Both purposes are served well by curves: The circles and arches that link the legs and rails of the bases bring a natural element to the design while providing rock-solid joinery. To build the bases, Warner uses slip tenons, so that despite the curves, the joinery is not extremely difficult. Warner cuts the mortises for his joints with a horizontal slot-mortiser, though most of the slots could also be cut with a router.
Slip tenons simplify joinery. Warner, seen here at his slot-mortiser, employs curves extensively in his furniture. Using slip tenons makes joining the curved parts far simpler.