Turn Your Lathe Into a Disk Sander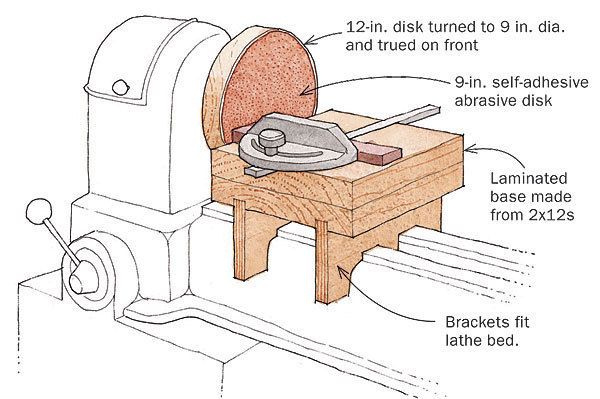 Start with the sanding disk. Mount a square piece of 2×12 or a plywood lamination to a steel faceplate. Turn the disk to 9-in. dia., flatten the face, and mount a self-adhesive sanding disk to the face. I make up several disks in different grits. For the multiple disks, I use 3-in. steel faceplates from W.B. Noble (wbnoble.com), which are large nuts welded to 3-in. washers.
To make the base, laminate two pieces of 2×12. The length is based on the size of your lathe and your preference. Mine is 9 in. wide by 13 in. long by 3 in tall. Cut two 3⁄4-in. grooves on the bottom (for the plywood brackets) and one on the top (for a miter gauge). Glue up the brackets to the base while on the lathe bed to make sure everything is aligned.

Jim Richey