Free Woodworking Plan: Build a Shaker Rocker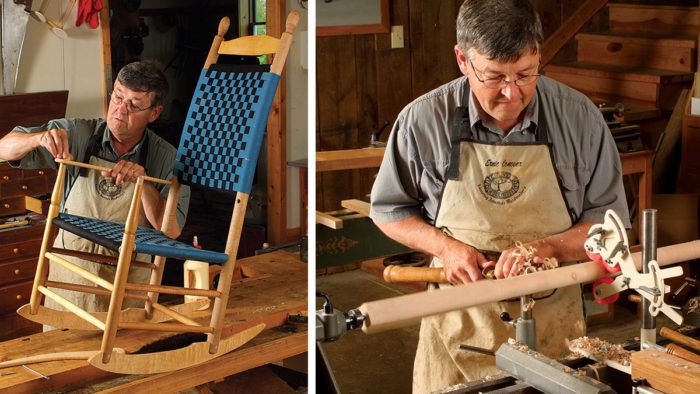 When it comes to tough woodworking projects, chairs are right up there with the dreaded Bombé chest. Chairs are deceptively tough. One would think that a small project with four legs, a seat and back wouldn't be so hard to pull off, but it is. Get the angle of your chair back wrong, and you've got one very uncomfortable seat. And don't get me started on the idea of pulling off a set of eight dining chairs. Ugh.
That said, sooner or later, most woodworkers with chops cut on cabinetry and tables will want to at least dip their toes into the chair-building pool. For those intrepid saw hogs, Ernie Conover's simple Shaker rocker might just do the trick. With its simpe and attractive lines, the Shaker rocker is economical to build, surprisingly comfortable, and functions as a great introduction to a variety of woodworking techniques.
CLICK HERE to download the free PDF article and woodworking plan for Conover's Shaker rocking chair.
---
Simple chair offers plenty of new techniques to tackle
Conover's simple little chair takes the intimidation out of mastering a whole host of techniques for those with a hunger to step up their woodworking game.
Shaker Weave – Conover's Shaker-tape seats and backs will require about 80 yards of 1-in. tape. For complete instructions on how to "achieve the weave," be sure to check out FWW #121.
Spindle Turning 101 – All the parts to Conover's chair, except for the arms, rockers, and the curved back slat, are turned on the lathe. The back posts will require a steady rest and a lathe that accommodates a 43-in.-long turning.
Steam-bending Made Simple – Conover uses a simple shopmade steam box to prep his parts before bending and clamping them around a simple form.