Not your average photo shoot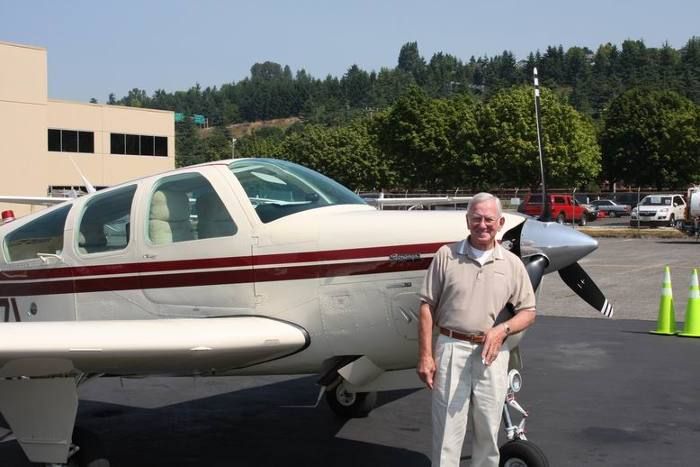 Although I'd been looking forward to doing another photo shoot with Dick Babbitt (FWW issue 205, "Dust-Proof any Tablesaw"), the journey from Connecticut to San Juan Island, Washington State, is pretty arduous. In particular, because you can't make a reservation for the ferry that leaves from Anacortes, in high season the wait can be at least two hours, making the journey from Seattle airport to his house a 5 or 6 hour grind. When I asked him if there was any ferry that ran from Seattle direct to the island, imagine my excitement when he offered to pick me up in his own plane. All I had to do was get a cab to Boeing field near downtown Seattle. Deal!
The flight to Friday Harbor on San Juan Island was just over 30 minutes with a great view of Seattle (with interstate 5 at a satisfying standstill) and Puget Sound. Dick is a retired salesman for Beechcraft and is a very experienced pilot so I didn't have the slightest concern about my safety.
On the return trip to Boeing Field I noticed one of the new 787s parked to one side. It was painted in the livery of ANA, the Japanese launch airline for the new plane. It felt pretty good to walk 20 yards from the plane and get straight in a cab back to Seattle airport for the more down-to-earth delights of TSA security and Southwest's peanuts.
I doubt I'll ever get to do this again, but if there are any would-be authors with helicopters, I can't guarantee your proposal will be accepted but it does stand a very good chance…
Dick Babbitt and his Bonanza at Boeing Field, Seattle.
Downtown Seattle from 2000 ft
The landing strip at Friday Harbor on San Juan Island.
ANA Boeing 787 being fitted out.