IWF Alert: Tiny router bits do delicate work for boxmakers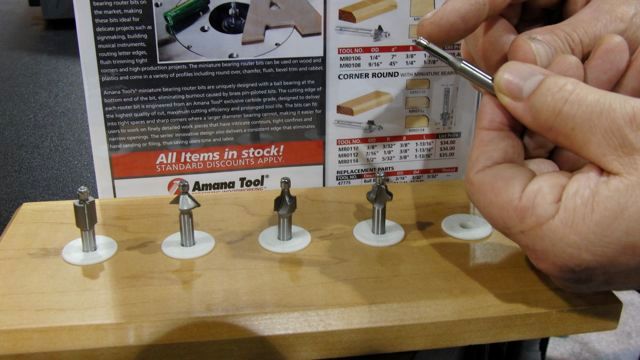 It's Day 1 at the 2010 International Woodworking Fair (IWF) and I've seen a ton of tools–not a bad thing for a tool junkie like me. As a boxmaker, I was intrigued by a new set of bits from Amana. They're all bearing-guided, but look nothing like the bits we're used to. Here's why. The bearing on all of them is just 3/16 in. in diameter. That's right: 3/16 in. That is small. And all of the profiles are in proportion to the bearing. So you've got a very small flush-trimming bit that can get into tiny corners (a real boon for pattern routing and laminate work), a roundover bit, an ogee, a chamfer bit, and a rabbeting bit. They're just the right size for boxes. Standard bits have profiles that can be oversize for the delicate proportions of a box or small frame.
I know that tiny router bits might not appeal to everyone, but you have to admit that they are cool.
The bits are currently available and range in price from $25 to $36.
UPDATE: In all the hustle and bustle of IWF, I forgot to mention a very important fact. These bits have a 1/4 in. shank, so they'll work just fine with a trim router or any other router that has a 1/4 in. collet.
Read about other great tool finds at IWF 2010
Delicate bits for delicate work. Profiles on standard router bits can be too large for small boxes, frames, and the like. These bits from Amana are just the right proportion.
That's not a giant finger. It's a very small flush-trim bit from Amana.