Heavy-Duty Plunge Routers
3-hp routers make deeper cuts than mid-sized models, and feel more solid in your hands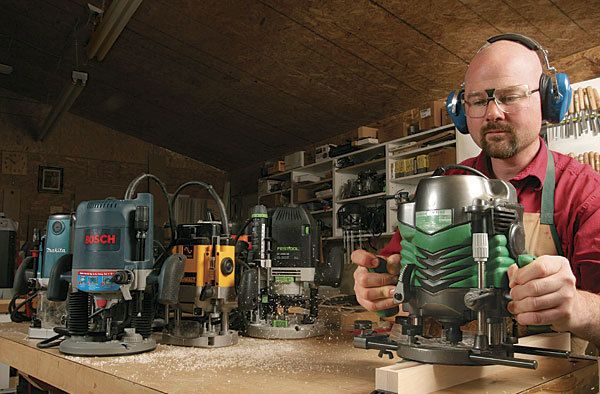 Synopsis: 3-hp routers have the raw power needed to cut great mortises, profile edges, shape wood to a template, cut dadoes and rabbets, and more. But because these routers have a lot of torque, details such as soft start  and variable speed are important. We tested eight plunge routers to see how well they hog away waste and what kind of surface they leave behind. Models tested include the Bosch 1619EVS, DeWalt DW 625, Festool OF2200, Freud FT3000VCE, Hitachi M12V2, Makita RP2301FC, Porter-Cable 7539, and Triton TRC001.
Whenever practical, I rout my mortises, and there's no better router for the job than a plunge router with a big motor. The raw power lets you remove more waste in a single pass, and the increased mass means the router is easier to control and cuts more smoothly. But a big plunge router is great for more than just mortises. I use mine for template routing, profiling edges, and cutting dadoes and rabbets. That's why I was glad to say yes when Fine Woodworking asked me to test all the heavy-duty plunge routers on the market.
It takes a lot of power to breeze through deep mortises, so I looked only at routers with 3-hp motors. That's a lot of torque and power to have between your hands, so the routers needed soft start to tame torque at startup and variable speed so that the motor can be slowed down for large-diameter bits.
Also, I wanted all of the routers to work with guide bushings, making them more flexible for template routing than if you had to rely on bearing-guided bits. Fixedbase routers weren't considered because they aren't suited for routing mortises. In the end, I tested eight plunge routers: the Bosch 1619EVS, Dewalt Dw625, Festool OF2200, Freud FT3000VCE, Hitachi M12V2, Makita rP2301FC, Porter-Cable 7539, and Triton TrA001.
Power and cut were not an issue
The primary reason to use a powerful 3-hp plunge router is to hog away waste more quickly. But all of that power is worthless if the cut ends up burned or bumpy. To get a sense of the power in these routers, I routed mortises in hard maple. To test cut quality, I routed two edge profiles (a roundover and an ogee) in cherry, which is prone to burning. To ensure that I was testing routers and not router bits, I equipped every router with its own set of new whiteside router bits, which have been top performers in previous tests (FWW #137, #191).
All of the routers had enough power to rout the mortises with ease. I even used them to rout mortises 1 in. deep by 1⁄2 in. wide by 3 in. long in one pass. Cut quality wasn't a problem either.
From Fine Woodworking #214
For the full article, download the PDF below:
View PDF