Makita - Makita- Heavy-Duty Plunge Router RP2301FC
This plunge router featrues a light on the base and has a plunge depth capacity at 2-3/4 in.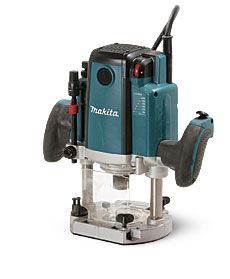 With lights in its base, this router had great overall visibility and sight lines. I also appreciated the very aggressive spindle brake, as it minimized the time wasted between mortises. The plunge lock worked well, and the depth rod and turret system were easy to adjust. However, the plunge mechanism was weak, and I occasionally had to help the router back up. The power switch was a nuisance, too. To turn the router on, you must first depress a lockout switch meant to prevent accidental starts. If you don't immediately release the safety switch, the router is locked on and turning it off can be a nuisance.