DeWalt - DeWalt- Heavy-Duty Plunge Router DW625
This router features a slick phenolic baseplate with a plunge depth of 2-7/16 in.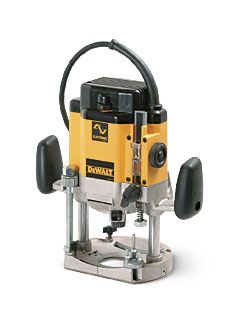 With good balance and ergonomics, this router handled well. I especially liked its slick phenolic baseplate, which made it easy to steer the router for edge profiling. It plunges smoothly, and the locking lever works easily and holds the height tightly. The stops on the turret are simple to adjust to allow for variable plunge steps. Adjustments to the plunge depth, both macro and micro, are easy. Bit changes presented no problems, as the spindle lock worked and the wrench was beefy and drop-forged. The dust collection worked very well when I was mortising, but not so well while I was edge profiling. Unfortunately, the edge guide was disappointing, as its fence casting wasn't straight. And visibility became an issue on deep plunge cuts.