Trying on a Different Look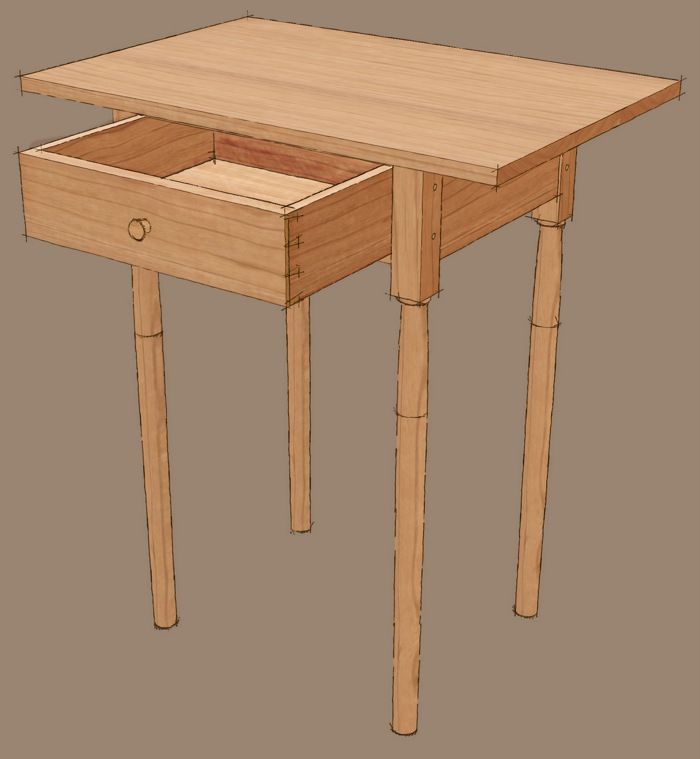 I was chatting with a woodworker the other day about SketchUp. He's fairly new to it and was asking about how he might go about showing his clients various options for their kitchen projects. He's coming from drawing out his projects with pencil and paper and is used to having to make several drawings showing the different options. While he could do that, I think there's a better route.
Here's my approach. I'm using the model I drew of Christian Becksvoort's Shaker side tables for Shaker Classic, 2 Ways in FWW210. Although my friend was thinking of different styles of doors on kitchen cabinets and different cabinet arrangements, the process is identical with these tables.
After completing the model with the tapered set of legs, I went created the layers for organizing the parts. Then I made the layer associations with the components. I turned off the tapered leg layers and drew in the turned legs. After making layer associations for them, I could easily switch between leg styles by choosing which layers are turned on and which are not.
Actually I copied the tapered legs, used Make Unique and edited the copies to make the turned versions as this saved me time and effort. I'll cover that another time.
In the following image, the tapered legs are visible and you can see that the layers for the turned legs are unchecked making them invisible. I made a Scene and called it Tapered Legs to make it simple to identify.
Then I made a second scene with the turned legs visible instead. I didn't move the camera between scenes so switching back and forth between scenes only changes the legs.
To make the two images at the top, then, I just made JPG exports of each scene.
So for something like my friend's kitchen projects, he could show raised panel doors and tombstone doors with a couple of different layers. The rest of the kitchen model would be the same between the two views. Or he might show the kitchen with an island or a peninsula. The options are endless. Perhaps too endless for some clients but that's up to you.
By the way, if you haven't done so, take a few moments to read the SketchUp Help Files on Layers. It's well worth heeding their suggestions regarding the way layers should be handled.