Lynx - Lynx – Scraper Set
Lynx scrapers are excellent for moldings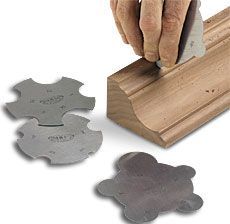 Have you ever routed flutes in a column or pilaster, and then had to fashion an old hacksaw blade or something else into a crude scraper to clean up the fuzz and chatter marks?
Maybe you've used a roundover bit to make a bullnose, and then you had to deal with a flat section in the center. Those are just two occasions when some clever little scrapers from Lynx have made my life easier. I've even used the smaller concave forms to put a bullnose shape directly onto square stock, bypassing my router, shaper, and spokeshave.
Curved scrapers are unmatched at cleaning up moldings without rounding the edges the way sandpaper does, and the Lynx sets offer the shapes you'll need most often. The scrapers are sold separately in pairs of convex and concave tools. They come nicely ground on the edges, ready to use. The sets sell for about $11 each (www.woodcraft.com; No. 150104 concave; No. 150105 convex).
Photo: Staff