SawStop - 10-in. Professional Sawstop Cabinet Saw
New SawStop a better choice for home shops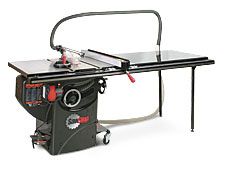 Sawstop, the company that developed finger-saving tablesaws, recently added the Professional Cabinet Saw to its lineup. It's a somewhat smaller and less-expensive version of the original Industrial Cabinet Saw, but no less serious. While the first SawStop cabinet saw was built to withstand decades of all-day use in a commercial shop, this one is lightened a bit for the high-end amateur and small-shop pro. That said, dust collection is much improved on the new model, thanks in part to a unique branch line that connects the main dust hose to the blade guard.
I gave the saw a workout in the FWW shop. All the measurements that affect cut quality were within tolerance except blade-to-miter-slot parallelism, which was off by 0.016 in. Fortunately, SawStop makes it easy to correct this problem with a unique turnbuckle-style adjusting nut. A few turns with an open-ended wrench, and the saw was within 0.002 in.
The riving-knife system on this saw works very well. It includes two knives: a high-profile knife with attached blade cover and anti-kickback pawls, and a low-profile knife for non-through-cuts like grooves or slots. Switching out the knives is relatively easy. Just remove the throat plate and flip a lever to release the knife.
In fact, all the saw's components are well made and have excellent fit and finish, and the 3-hp motor matches the performance of the leading cabinet saws.
Bottom line: The new SawStop offers woodworkers a serious cabinet saw with blade-braking technology for nearly the same price as competitors without the technology. The model with a 52-in. rip fence sells for $3,000. With a 36-in.-fence, the price is $2,900. The optional mobile base adds another $200. Go to www.sawstop.com for more information.
Improved dust collection. With a branch hose that connects the blade cover to the main port, the SawStop Professional Cabinet Saw captures nearly all the dust it produces.
Photos: Staff